When You See It, Celebrate It
What Started as Panic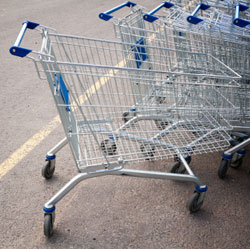 Here's how my Monday morning started last week. I walked upstairs to my office and when there was no computer in sight, the feeling in the pit of my stomach told me what must have happened. That Sunday while on my way in to the grocery store, I brought my laptop with me so it wouldn't be exposed to the high heat inside the car on a June day in Scottsdale -- it was 107 degrees outside. After shopping for about an hour, I quickly loaded the groceries into the car. In my haste to get home with the refrigerated items, I left my laptop in the shopping cart, lined up in the parking lot stall. Since I decided to have a computer-free Sunday afternoon, I didn't notice it was missing until bright and early Monday morning.
The fact that I had recently backed up everything on my computer prevented me from completely freaking out. I was still frantic, however, when I called the store manager whose first response was that he hadn't seen anything come in but would check. Fortunately, within five minutes Patrick confirmed that Matt, one of their baggers, had recovered the computer Sunday afternoon and brought it safely to the store's office. I zoomed to the store, thanked everyone profusely, and since their policy prevented me from giving Matt a cash reward, I promptly wrote a commendation letter and submitted it to the corporate office.
What could have been a rotten way to start the week turned into an inspiring one. I retold the story all day long, introducing it with: "Want to restore your faith in humanity? Listen to this…"
The More You See It
"You should write an ezine on it." That's what everyone told me and thus, this article. As I always do, I asked myself what the main message of the story is, aside from: Better to leave your laptop in a hot car than directly in the blazing sun in an unattended shopping cart.
I think the real message is this: It's heartening when someone does the right thing, and it certainly does restore your faith in humanity. What I realize, too, is that I felt compelled to celebrate the good that I had experienced. We're subjected to so many negative stories that it is vitally important to balance the scales for ourselves and notice that good is happening in our lives each day.
In just scanning the last few weeks, I found other examples of people doing more than required. There was the manager at the post office who spent 45 minutes with me just before closing time on a Friday afternoon. With grocery bags strewn all over the counter and Rice Krispies Treats® overflowing to the floor, she cheerfully boxed three care packages for my niece's husband serving in Afghanistan. It made everyone in line smile.
Then there was the eye doctor who offered to visit my mother at her group home, when he learned that another practice had abruptly terminated her as a patient. Ending an afternoon of frustrating phone calls, his kindness made my day.
It's All Connected
The examples above are business case studies as much as they are personal stories. They remind us of the interconnectedness of giving and receiving, and they demonstrate the tremendous impact of doing the right thing or giving a little extra in our everyday transactions.
This Week's Call To Action:
Deliver more than required –- a little extra -– to a customer, coworker, family member, or friend.

Tell people when they're making your day and you'll be making theirs.

Celebrate the good things that happen to you. When you share your stories with others, it restores faith in humanity, both yours and theirs.
Celebrate good when you see it.
"The best portion of a good man's life is his little, nameless,
unremembered acts of kindness and love."
--William Wordsworth
Here's to you,