Download your free copy of Make This Your Defining Moment. In it I will guide you to take a powerful and essential first step toward living with greater joy and abandon. You will also receive a free subscription to my
biweekly ezine Current of Life.
Watch for a confirmation email with a link that will take you to instructions for downloading your workbook. Your address will never be shared or sold.

"I have interacted with Ginny both as a client and business advisor. Her own experience making a career change from the corporate world to founding In the Current® has well-equipped her to assist others who are seeking more satisfaction from life."
—Rinamarie Spatafore
Asst. Director
Marketing Communications
Montefiore Medical Center
Bronx, NY

"I have had the privilege of knowing Ginny for over 20 years. Her informative, inspirational, and effective strategies as a Coach have helped me develop into a better person. Her enthusiastic personality and constant encouragement has always assisted me in meeting my goals."
— Art Greene
Chicago, IL

"I have had the pleasure of knowing Ginny all throughout her coaching career. I hold her in the highest esteem as a professional who will deliver on any venture or project she undertakes, as she is a highly knowledgeable and skilled coach, consultant, trainer and speaker. Ginny's signature strengths are her exuberant and energetic personality, her balanced and in-command presence, which complement her ability to connect on a real and deep level with so many different types of people.
"I have collaborated with Ginny on various initiatives and know that she has a talent for the balance of creativity and vision with keen project management and an eye for details. As a coach, I have recommended her to my immediate family, and that is a true testimony to my trust in her ability in this field. Simply put, anyone who has the opportunity to work with her, in pretty much any capacity, should take it. I have no doubt they will be glad they did."
— Jill Berquist
President
Berquist Coaching Services

"Ginny has the wonderful ability to put people at ease and connect with them on multiple levels. We first worked together during our corporate careers and I experienced her as consistently warm, professional and proactive.
"When we both decided to start our own businesses, we established monthly communications to support each other in our new ventures. That has continued over the years, and Ginny has been a steady advocate for visioning, goal setting and business development as well as a sounding board for tactical ideas, problem-solving and creative brainstorming. Ginny hired me to collect objective feedback from her clients, and I also participated as a client in one of her group coaching programs. I know first-hand —on two different levels— that she brings the same energy and skills to her coaching clients."
— Wendy Kershner
Principal
Axia Marketing
Profile: Virginia (Ginny) Kravitz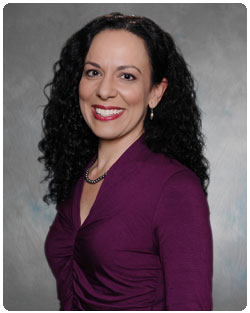 Virginia Kravitz, Executive Coach and Career & Life Strategist founded In the Current to serve accomplished professionals who want to move forward with clarity and confidence.

Her specialties include: transforming career restlessness into a discovery of your unique talent, purpose, and passion; managing overwhelm by using this feeling as a signal to make more effective choices; and owning your time instead of just managing it. (Read about Ginny's executive coaching specialties here.) Her unique approach incorporates the Five Stages of Living in the Current.

Prior to launching her coaching business in 2002, Ginny enjoyed a 15-year career with a leading health care benefits company. Her tenure included a role as director in a national accounts sales and marketing organization, and then as the project leader and director of a new corporate presentation center.

Known for her energy and exuberance, Ginny brings innovation and fun to the work while inspiring others to believe in themselves and take bolder action. Having a rich depth of experience working with corporate employees, managers, executives, independent business owners, and professionals from various fields, Ginny has a penchant for motivating others to think bigger and express their unique talents for greater fulfillment and impact.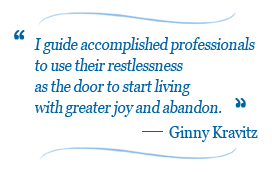 Ginny is a Professional Certified Coach, credentialed by the International Coach Federation and a graduate of Coach U, the leading global provider of coach training programs. She is a recognized facilitator of the Now What?® career and life direction program, a member of the Now What? A-Team, and an authorized trainer of the OASIS in the Overwhelm strategies.
Ginny is a co-author of
OASIS in the Overwhelm 28 Day Guide: Rewire Your Brain from Chaos to Calm
. Her enthusiastically received ezine is entitled
Current of Life
.
After living in New York and Connecticut for most of her life, Ginny and her husband relocated to Scottsdale, Arizona in the latter part of 2006. Ginny interacts with clients located primarily across the U.S., as well as internationally.

A little bit more of my story...
To add to the official profile above, here are a few fun-facts:
The genesis of the name, In the Current, comes from a story my family likes to tell. It seems that as a young child, I was prone to wake up from naps by barreling down the stairs, slamming the kitchen door open, and demanding to know why everyone let me sleep so long. I've come to interpret this as a somewhat fierce desire to be in the full current of life. Except now, I like my naps.


While I come from a liberal arts family and graduated college without a clear idea of "what I wanted to be," you could say that I was intrigued by personal development before I even knew what personal development was. I have distinct memories of inventing my own motivational "systems" at a relatively young age and my interest in personal potential grew from there. Raised in Mt. Vernon, New York, I attended Fordham University, where I majored in Communications, minored in Psychology, and also ventured into Theology.


During college I worked for the cosmetics company Estee Lauder, and even though this was a part-time job, I count it as significant because it taught me something about confidence, empowerment, and self-expression. While I almost took a full-time position with Estee Lauder, I eventually selected the insurance industry as my starting career which, unbeknownst to me, would last 15 years.


My corporate career included many challenges and successes, the first of which was conquering my fear of math. Good thing, since I spent quite a bit of time pricing business and managing budgets. Over the years, I gravitated to roles that allowed me to use more of my natural strengths as a communicator and motivator. I became cognizant of a desire to inspire others and help them express their unique talents.


Receiving feedback from my bosses and peers that I had an ability to make work fun, I eventually came to value this as a skill. A favorite memory of a former colleague is when I picked her up early in the morning, on our way to what promised to be a difficult business meeting. With the U2 version of Mission Impossible blaring in the car, we became caught up in the explosive energy of the music and brought that power with us into the meeting. The resulting mental attitude adjustment had transformed our experience once again.


While at a career crossroads, I found myself calling in to a QVC cable TV show, determined to speak "live" with Tony Robbins and ask him for a job. Although I didn't get through the phone line that night, in that moment of bold clarity I knew I was serious about making a significant change. Interestingly, though I had concluded it was time to leave the industry, what came first was a role change within the same company. This proved to be an opportunity to apply a different mix of my skills in a new capacity and to contribute on a more creative level. In many ways, the final four years of my corporate career were my finest and one of the reasons I feel so strongly that there is a huge and often missed opportunity within organizations to retain talent by helping employees identify the best position to shine and contribute fully.


I first learned about the growing field of professional coaching while researching various areas of interest with a career counselor. Five years later, the timing felt right and in 2002, I founded my coaching business.

In my current role as coach, I see myself as a metaphorical river guide, helping people move with both patience and boldness as they navigate the decisions of their own lives and embrace what brings them joy.
I call this a powerfully graceful way to move.