What Are You Willing To Do?
Willing to Follow Through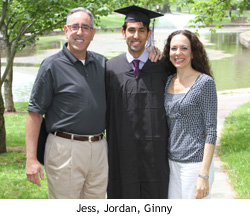 I'm writing today's article in-flight, on the way home from attending my stepson Jordan's college graduation in Hartford. During this trip and through the example of three people close to me and in their 20s, the theme of willingness presented itself as the message to share with you this week.
I'll begin with Jordan who is 28 and has a solid job in his chosen field of computer network engineering. At various points in his 20s and making a good salary, the necessity of a college degree could have been questioned. Yet Jordan made the decision to follow through, going at his own pace and taking classes at night, while continuing to work full-time. His persistence paid off and his options are now multiplied.
Gregory S. Babe, the commencement speaker, addressed a group of graduates that included his own daughter. He spoke of some childhood dreams that had not come true and one dream he had surpassed. "In my opinion, it is not about your batting average when it comes to dreams. It's about what you are willing to do to make them reality."¹
That brings me to the other two examples of willingness that I observed on my trip east.
Willing to Stand Up
Christina² is a very bright and accomplished young woman, currently pursuing her masters in psychology. Her experience as an intern for a renowned professional was ultimately worthwhile but came with one big negative: working for someone with a volatile temper and manipulative management style, if you can call it that. Her big moment of willingness occurred last weekend when she realized she was no longer willing to be treated poorly and that she is now willing to draw the line and stand up for herself.
The third example is that of Mike, the son of lifelong friends. As he completes the last two years of his service as an officer in the military, Mike is contemplating his future career in the business world. "Some people tell me it's unrealistic to want to work at something I'm passionate about but liking what I do is important to me." I know you're not wondering where I came down on this issue and how I responded to Mike.
While in their 20s, Christina and Mike demonstrate the essence of so many pivotal life decisions that present themselves in every decade: What am I willing to stand for?
Willing to...
When you say the words: I am willing, there's something empowering that happens because you are focusing on the choice you have, what you can do, and the aspect of the situation you can influence. You may even find that what seemed insurmountable before is now a reasonable climb.
This Week's Call To Action:
Get clear on what you're willing to do.
Follow through on something, just as Jordan did. Make the extra effort and see the work as simply what needs to be done to serve the bigger vision. Respond in a new way to whatever has blocked you in the past. Map out your goal to its completion.


Like Christina and Mike, stand up for yourself and what you value.


Like Mike, go beyond the "realistic" suggestions of others and consider where your own passion and opportunity could meet.
Your willingness makes the difference.
Here's to you,


Notes:
¹Gregory S. Babe is president and CEO of the Pittsburgh-based Orbital Engineering, Inc. More about the commencement here: CCSU commencement a celebration for graduates
²Name changed for privacy.