Commit Yourself Again
What Happened?
This past New Year's Eve, after enjoying a delicious dinner at our cousins' house, I implored our hosts to turn on the TV and, pushy guest that I am, even insisted that we tune in to ABC so I could watch Ryan Seacrest host Dick Clark's New Year's Rockin' Eve. Despite the fact that I've lived in Arizona for six years, I still say that when New York says it's midnight, it's midnight. My husband claims that's just so I can go to bed early; nevertheless, with ten minutes to spare, I was ready to transport myself to Times Square for the big countdown. There we sat with champagne glasses poised and - zap! The local station cut to the news. What happened to the countdown? What happened to Auld Lang Syne? What happened?
Two hours later, Jess and I were back home and in our pajamas. It was ten minutes to midnight, Arizona Time. I turned the channel to CNN and was happy to see they were re-running footage of the ball dropping. I had a second chance for the countdown. With just a few minutes to go, there it was again - zap! They abruptly cut to members of Congress voting on the fiscal cliff measures -- not exactly what you want to watch on New Year's Eve... or ever. I suppose Times Square and I were not meant to be; yet the New Year arrived anyway.
Get Your Bearings
Indeed, the New Year arrives with fanfare or without and whether we feel ready or not. One woman, who is both a business owner and mother of three, told me that she doesn't feel like the year gets underway until about March. I can relate to what she's saying, and each year is different, depending on what you have going on. Rather than force some hastily made declarations in a rush to catch up with the calendar, it's more important to gather yourself and get your bearings. Reflect on the past year and bring the perspective of what you've learned to what is before you now.
When you do this, it's likely that some things will bubble up to the surface, things that you may want to stop, start, or continue in the New Year. Take note of them and, if goals are forming that feel right to you, consider pursuing them. Just be sure that before you get going on those goals, you take a moment to go deeper.
Go Deeper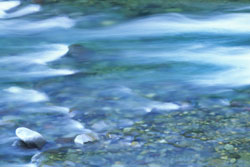 Underneath any specific goals you may have for the New Year is a deeper commitment that comes from your core: to live well, to wake up your spirit, to find your calm, to own your time, to work with purpose, to stretch your mind, to love wholeheartedly, and to feel alive.
The New Year is an invitation to commit yourself again to the current of the world, as expressed below in the quote from Samuel Johnson. Living in the current is a conscious decision at every stage. Consider what lies before you this year and commit yourself again to that which is your life.
This Week's Call To Action:
Carve out an hour or two to conduct your own Seasons Reflection.
As you formulate goals for 2013, what is the deeper commitment?
"Do not suffer life to stagnate; it will grow muddy for want of motion:
commit yourself again to the current of the world."
- Samuel Johnson
Here's to you,