Download your free copy of Make This Your Defining Moment. In it I will guide you to take a powerful and essential first step toward living with greater joy and abandon. You will also receive a free subscription to my
biweekly ezine Current of Life.
Watch for a confirmation email with a link that will take you to instructions for downloading your workbook. Your address will never be shared or sold.
"Ginny, your Ezines are always so refreshing — and so practical. I love how you combine graphics, a key theme, and real-life examples of how to do it. Keep those ideas coming!"
— Millie Grenough
Coach, Speaker, Author


"I'm learning how to ask myself key questions when I realize I am feeling trapped, stuck, or overwhelmed. What do I need? How can I make this easier?
"In this way, I am learning new, healthier, much more successful strategies to face life's challenges and opt out of ingrained, ineffectual, and self-critical cognitive patterns. Many thanks! I can manage day-to-day living more effectively, thanks to your coaching." — Elizabeth Lane Rye, NH


Managing Overwhelm
Managing overwhelm means improving how you deal with this uncomfortable feeling as it arises and understanding what it is trying to tell you. This is an important skill to master since feeling overwhelmed from time to time "comes with the territory" when you are living a full life. The following two programs can be incorporated into your overall coaching program gradually, or taken on as the main focus and practiced in depth. This topic is also very relevant to work environments and can be effectively adapted for groups and organizations.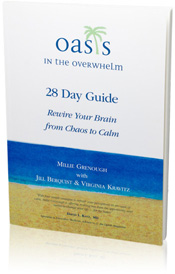 OASIS in the Overwhelm
This coaching program is based on Millie Grenough's book: OASIS in the Overwhelm: 60 second strategies for balance in a busy world. Recommended by Dr. Bernie Siegel, Dr. David Katz, and other experts in the field of preventive health, the core of the OASIS strategies is that they address four dimensions of awareness: physical, emotional, intellectual, and spiritual.
Simple to perform, yet profoundly effective, the strategies help you determine the most appropriate action to take in the present. The underlying OASIS philosophy is based on the latest scientific research that indicates you can learn to "rewire your brain" and establish healthier ways of dealing with stress.
The four basic OASIS strategies can be learned in one hour or less. Each one takes only 60 seconds to do. As an authorized OASIS Trainer and co-author of the OASIS 28 Day Guide, I will not only teach you the strategies but also show you variations and tips for remembering how and when to use them in your everyday life. Combining OASIS training with my coaching gives you the opportunity to proactively manage your real life situations and challenges. Go from learning the OASIS strategies to mastering them. Feel what "rewiring the brain" really means!
Breaking Through Overwhelm
In my Breaking Through Overwhelm series, we pick up where OASIS leaves off and explore how you can reduce unnecessary overwhelm as a recurring force in your life by strengthening each of the following areas that are connected to this dynamic:
Mindset (what you say and think to yourself)
Goal-setting and daily planning process
Decision making
Organizational style
Communication style
Specifically, you will learn:
The difference between productive overwhelm and unproductive overwhelm
How to be aware of your personal overwhelm triggers and prevent them from running on automatic
How to transform a mindset of overwhelm to one of power
The 3 questions that will move you from overwhelm to momentum
5+ techniques you can integrate into your work routine right away, to manage overwhelm and enhance your effectiveness
To arrange for private, shared, or group coaching on the Managing Overwhelm programs,

click here.

See all available coaching programs here.

Each of the coaching formats has its advantages and often it's simply a matter of what appeals to you at a particular time. If you would like assistance in deciding which format is best for you, request your free private consultation here.