Download your free copy of Make This Your Defining Moment. In it I will guide you to take a powerful and essential first step toward living with greater joy and abandon. You will also receive a free subscription to my
biweekly ezine Current of Life.
Watch for a confirmation email with a link that will take you to instructions for downloading your workbook. Your address will never be shared or sold.

"Having been the manager of someone who has been through one of Ginny's career management programs, it has demonstrated in a very practical way that Ginny's coaching enhances any talent development programs already in place in corporate life. In these uncertain economic times, coaching is the very real edge that employees need to differentiate themselves."
— Jackie Haywood
Program and Property Manager
Barkan Management Co., Inc.
Hartford, CT

"Every time I see one of your Ezines in my inbox I get a little frisson of pleasure because I know that with just a few words you will give me something meaningful and exciting to think about. Although we have never spoken, I feel like I get a regular coaching session with you with every Ezine."
— Carol Dawson
Sydney, Australia

"I appreciated the honest dialogue and direct approach. I liked the fact that Ginny is flexible and has a gift for tuning into my particular needs during each session. Her ability to articulate back to me the themes and messages I was relaying helped me hear them objectively and constructively so that I was better able to understand the challenges at hand and move forward towards resolution."
— Cheryl Lee (Bozek) Gilbert
Sr. Vice President
Commercial Banking

"Working with Ginny has been a highly positive and pleasurable experience. Through her coaching I have learned how to live and work more "in the moment". With her expertise and direction, I have achieved a much larger discovery of my personal and business potential, thereby leading me to greater and much more satisfying successes."
— Frank Boschi
Business Owner
WordJockeys

"I was able to consider some possibilities for my future that I would not have seen prior to our work together."
— Lori Baron
Manager of Learning
Aetna
Hartford, CT
Coaching Programs
Premiere Program:
In the Current® Coaching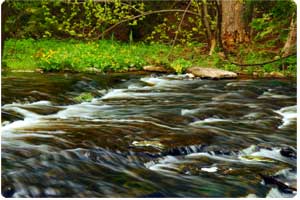 In this program, you select a specific focus for our work together and we take a very customized approach. As we address your personal and professional goals, we will naturally move through the
five stages
of living in the current:
Your Defining Moment, Gaining Clarity, Enjoying Now, Moving Forward, and A Powerfully Graceful Life.
The program is designed with flexibility so that you can select from a
menu
and work at the pace that is right for you. I will also introduce tools and resources as needed to support you in pursuing your goals and living more fully In the Current. In the Current® Coaching is available in a private or shared
format
.
Specialty Programs:
Now What? 90 Days to a New Life Direction
is a unique program based on the proven coaching system created by Laura Berman Fortgang. If you are at a point of evaluating what is next in your career or life, this program provides a concrete process for clarifying your direction. Now What?® Coaching may be just what you need if you are:
Facing change, whether by choice or circumstance;
Ready for a new role within your organization that's a better fit and allows you to shine;
Wondering about a new field entirely;
Re-entering the work world;
Contemplating retirement;
Experiencing a significant life change;
Thirsty for a stronger sense of purpose.
The Now What?® Coaching program is available in a private, shared, or group format. Click
here
for more information.
The Managing Overwhelm Program takes stress management to a whole other level by providing skill-building in several key related areas. There are two components to this program: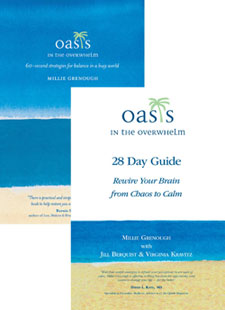 OASIS in the Overwhelm

— Millie Grenough, executive coach and clinical instructor at the Yale School of Medicine, created the OASIS program based on the latest brain research. These four simple yet profoundly effective strategies are easily learned, can immediately help reduce stress, and are able to be assimilated into your daily routine. In addition to being in the pioneer group of Milli's Authorized OASIS Trainers, I am also a co-author to the companion book, the OASIS 28-Day Guide.



Breaking Through Overwhelm

— In this series, we pick up where OASIS leaves off and explore how you can reduce unnecessary overwhelm as a recurring force in your life by strengthening each of these areas: mindset, daily planning, decision-making, organizational style, and communication style. These "preemptive" techniques, which I discovered for myself over the years and then shared with others, will help you avoid making a habit out of stress and, instead, learn to use the feeling of overwhelm as a signal to make more effective choices.
The Managing Overwhelm Program is available as a private, shared, or group training. Click
here
for more information.
Coaching Formats
Private Coaching:
In this one-on-one coaching format, sessions are via telephone and typically occur 2-4 times each month, depending on the
package
selected. Private coaching gives you the maximum amount of personal attention and focus. Since 100% of the time is dedicated to you, you have the flexibility to set the direction and adjust the pace accordingly.
Shared Coaching:
This is a two-on-one arrangement: joint coaching sessions for you and one other person. With this format, you share coaching time as well as the cost. You have the added benefit of learning from someone else while still retaining some of the customization and flexibility of private coaching. Your coaching partner can be a friend, colleague, or someone with whom I match you.
Group Coaching:
In this format, you participate in a small group which meets regularly via telephone conference. With the group, you get the interaction and perspective of other people. There is a special dynamic that occurs where you get coached even when I am coaching someone else. That means you'll very likely gain insight when listening to a member of the group, as well as when you are contributing directly. Another advantage is that group rates are very economical. Group coaching programs are announced periodically and also occur on demand, based on specific interest. To initiate a group or add your name to a
groups on demand
waiting list click
here
.
Which Format is for You?
Each of the coaching formats has its advantages and often it's simply a matter of what appeals to you at a particular time. If you would like assistance in deciding which format is best for you, request your free private consultation
here
.