Download your free copy of Make This Your Defining Moment. In it I will guide you to take a powerful and essential first step toward living with greater joy and abandon. You will also receive a free subscription to my
biweekly ezine Current of Life.
Watch for a confirmation email with a link that will take you to instructions for downloading your workbook. Your address will never be shared or sold.

"Ginny is the embodiment of inspiration. When she enters a room, it lights up, and when she leaves it, the lives of those inside are changed forever."
— Heidi Lamar
Owner, Spa Lamar

"Whether it's a corporate workshop, life vision retreat, or telephonic coaching group, Ginny's skill of connection and warm personality come through. An effective Coach with a gift for communicating with diverse styles, she is consistently professional and inspirational."
— Karen Senteio
Program Manager, The Hartford
President VERVE, Life Coaching Services

"Ginny spoke at a consultant event and she was fun, educational, and was able to spot break-through opportunities for participants right away by helping them articulate an issue and devise action steps for addressing it. She is always so upbeat and makes it obvious that she really wants to help you be the best you!"
— Kris Anderson
Independent Sales Director

"My time with Ginny absolutely impacted me. I got in touch with what would make my life joyful, what would make my business joyful, and what would make me of more benefit to other people."
— Sherrian Beagle
Senior Director, Independent Sales

"I just wanted to thank you for your Ezine that I have been receiving since I first signed up for it after hearing you speak at a Toastmasters District Conference. I have been very encouraged by your advice and fresh perspectives, and some of these small pieces of your wisdom have made a big difference for me. So thanks again."
— Nathan Jaycox
Sr. Mechanical Project Engineer
Waterford, CT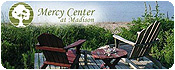 Comments from participants of a Retreat conducted by Ginny at Mercy Center, Madison, CT:
"Excellent presenter and very animated. Knows her information and communicates well."
— BH, Madison, CT
"Very thought-provoking. Sparked insights and ideas."
— CB, Executive Director of a Social Services Council
"This was an excellent program! Life changing."
— CS, Corporate Trainer
"Great topic! Ginny has started me on my journey."
— SD, Corporate Program Manager
"Excellent presenter and very valuable program."
— KK, Corporate Project Manager
Ginny Speaks

Keynotes • Workshops • Teleclasses • Retreats • Radio
Specialties & Topics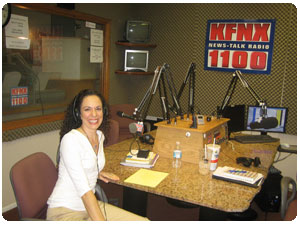 The following list represents a sampling of my most popular speaking topics. More can be found in the
Current of Life Library
within the categories of:
Mindset, Motivation, Confidence, Focus, Decision-Making, Purpose, Vision
and more.
To explore having me speak to your organization — whether in person or virtually — please send a description of your group's needs and interests
here
.
Career Restlessness
You Are Not Your Job Title — Who Are You?
Do You Know the Value of Your Own Stock?
Now What?®: Finding Clarity at the Crossroads
Elevating Your Career: 3 Keys to Attracting a Custom-Fit Opportunity
Your Career Transition: Taking Care, Taking Stock, Taking Action
Living In The Current
Make This Your Defining Moment
Who Are Your Models?
The Art of Living In the Current
Owning Your Time
There ARE Enough Hours in the Day
Got Goals? Get Momentum: How You Can Profit from the Power of Focus
Managing Overwhelm
OASIS in the Overwhelm: Rewire Your Brain from Chaos to Calm
What is Necessary-What is Possible: The Three Questions that Move You from Overwhelm to Momentum
Clips & Quotes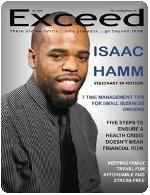 Exceed Magazine Radio Show — Listen below to excerpts from two interviews conducted with Ginny by hosts Katrena Patterson Blackson and Karen Adams.
Interview: Do You Know the Value of Your Own Stock?
Clip #1 (11:51)
Do You Know the Value of Your Own Stock?
Clip #2 (7:13)
Do You Know the Value of Your Own Stock?
Related article posted
here
.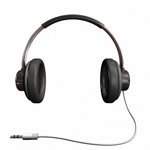 Interview: Living In The Current
Clip #3 (4:52)
Living In The Current
Clip #4 (2:03)
Living In The Current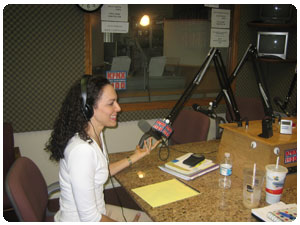 Career Straight Talk Radio Show — Excerpts from host Zohreh Piurek's interview with Ginny on the topic of Career Restlessness.
Clip #1 (1:13)
Career Straight Talk
Clip #2 (5:11)
Career Straight Talk
Clip #3 (2:18)
Career Straight Talk
Conducting a Now What?® Workshop for career changers at Jobing.com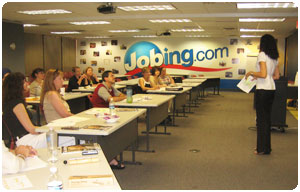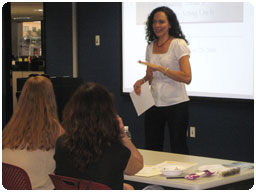 Presenting the Power of Focus to Independent Sales Consultants at Spa Lamar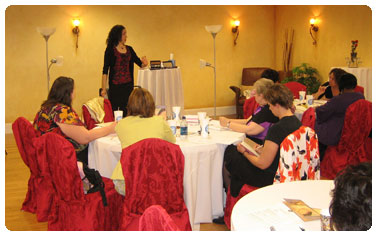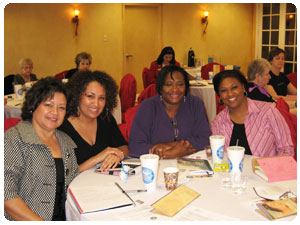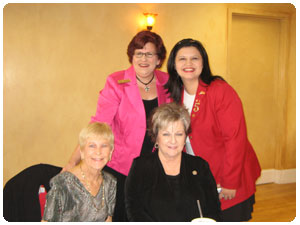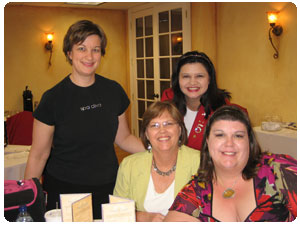 In the words of workshop participants:
"Fabulous! It exceeded my expectations. I can't wait for my team to come and experience it!"

"Wonderful. I am encouraged."

"Great support for us as business women."

"Positive growth for all aspects of your business and personal life!"

"You walk away with a more constructive attitude and feel more in control of your time, life, and career."

"Comfortable. Empowering. Inspiring. It was like a retreat."