They See It In You
Before You Do
My friend Art and I still reminisce about a customer meeting we attended together years ago. It was my freshman year in the corporate world and my first business trip. My job in the meeting was to utter three whole sentences about how the numbers were derived. He insists he saw something special in me at that meeting -- who knows what it was, but he saw it. Art is definitely one of the people who helped me build confidence in those early years and remains a loyal supporter to this day.

Throughout a career and no matter the titles acquired, everyone's confidence will hit some peaks and valleys. While it's ultimately something to possess internally, external input provides valuable information. Pay attention to what your supporters are saying. They see it in you, even before you've internalized it. That they see you is a gift.
What They Mirror

When I scan my career thus far, I think of those whose feedback helped build my confidence. It's a list of names that includes some of my first bosses and coworkers and also others whom throughout the years I worked with, reported to, managed or mentored.

Many of those confidence-building moments were rather small interactions, quick statements such as these:

You know, you did a nice job with that. You're a good writer.
People respond to you. Your energy is contagious.
I hope you realize not everyone does that. That makes you unique.
This place is too small for you now. It's time to spread your wings.

I'm not talking about feel-good compliments or flattery but rather those affirming moments of truth that help you to know yourself and see the value of what you have to offer. This is what instills confidence. Of course there is always that "other list" of people whose words chipped away at your confidence, yet in certain ways, even they helped you to see yourself. You discovered a trait you didn't know you had. You clarified your values. You strengthened a weakness.

Do You See It Now?

What are your supporters mirroring to you? Catch that passing comment, stated simply as a matter of fact. Other people often recognize who you are before you see it for yourself.

This Week's Call To Action:
How do the people you interact with help you to see yourself? As a leader, father, sister, mentor, or friend, how are you seen? How would you like to be seen?


Who are the people who have affirmed you and helped build your confidence over the years? What have they shown you about yourself?


Be a confidence-builder. Let others know what you see in them.
See your true self, see others, and remember that we are mirrors for each other.
Sawubona. I see you. Sikhona. I am here.
-Traditional greeting in
KwaZulu-Natal, South Africa
See you in the current,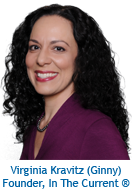 Current of Life, by Virginia Kravitz, is a free, biweekly ezine for accomplished professionals who want to have more fulfilling careers and lives. Each issue provides practical guidance and inspiration to embrace a new and joyful momentum as you navigate the important decisions of your life. As a subscriber, you have exclusive access to special events such as teleclasses, call-in days, program previews, and Current Conversations, a monthly community call.
Learn more about my unique approach which incorporates the Five Stages of Living in the Current.
Visit: inthecurrent.com
© 2015, Virginia M. Kravitz and In the Current®. All Rights Reserved.
You are welcome to reproduce this article provided it is without any alteration,
includes the copyright line above, and a link to www.inthecurrent.com, if distributing electronically.