When Is It Okay To Coast?
Call it Floating
In response to the last issue on Moving Forward, Sharon, a long time Current of Life subscriber, emailed me with a question. Having just been through an intense time of various changes, she comments:
I am perfectly happy right now just floating in the sea of life and not wanting to move forward yet. So aren't there also times in life to be still and listen to what our inner soul speaks to us? Because that is where I am, but I don't want to feel a sense of guilt or remorse that I am not "moving forward."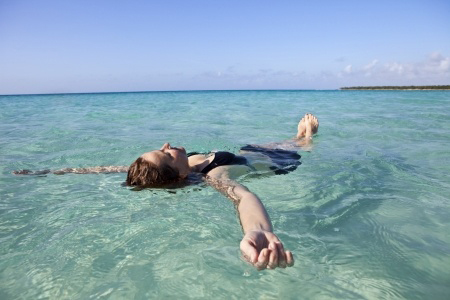 My answer is yes, absolutely. Particularly after extended periods of change and big moves, some float time is in order.1 Being still even as the world around you revolves has the potential to offer great insight. It's a perfect time to capture ideas that occur to you and to write down your thoughts. Even in periods of not taking action, there is often internal movement and these inner stirrings will ultimately move you forward if acted upon.
Call it Coasting
In thinking about my answer to Sharon's question, I realized that just last week two clients had similarly raised the issue of "coasting".2 One is deciding whether to take a new job in a completely different industry or to stay in her current position that is more of a known quantity with possible growth potential. Factoring in other changes in her personal life, a friend suggested: Why don't you just coast for a while? Though considering this, she is leaning toward accepting the new job.
The second client recently resigned from a position and is exploring several areas of interest in terms of her next career direction. For cash flow, she may take a smaller scope job on an interim basis. A leader on the executive track and path-forger by nature, the decision to coast feels strange to her.
Both women are wise to check themselves, to make sure the coasting option, if elected, is done consciously and with good reason.
Coasting as part of a larger strategy can make sense. It gives you a chance to: rest and recover, address other needs, focus on another aspect of your life, or prepare for something new.
When might coasting not be such a great choice? When fear of the unknown is the major driver. Also, when you coast for too long there is a risk of settling and stagnating.
When deciding whether To Coast or Not To Coast, these are the questions to consider:
What does each option make possible (coasting vs. something new or challenging)?
What does each option cost you?
What serves you the most ultimately, in terms of the big picture?
On an intuitive level, what feels right? What do you want to do?
You're Still Moving
As you make your way down the river of life, there are times to actively paddle and times to just float. It's a matter of pacing yourself. Arriving at the right mix of directing and going with is what living in the current is all about.
This Week's Call to Action:
Do you give yourself float time? What would a little float time every day look like, so that as Sharon says, you can hear your soul?


Right now in your life are you coasting or moving at a faster clip?


How do you know when it's time to pick up the pace and move? What are the internal cues? What are the external signals?
Floating, coasting, or forcefully carving a path, you're still moving.
See you in the current,


Notes:
1The dictionary definitions of float offer several interpretations: to rest or remain on the surface of a liquid; drift along; to move lightly and gracefully; to be free from attachment or involvement; to launch (a company, scheme, etc.); set going.

2Here are a few definitions of coast that are in line with today's topic: to continue to move or advance after effort has ceased; to keep going on acquired momentum.