How'd We Get Here?
My Sense of Direction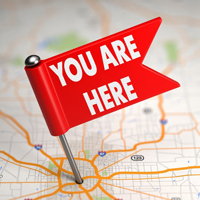 "I don't really need the GPS for this trip but I'll plug it in just in case." My mother-in-law, Sandi is quite familiar with the predictable explanation I typically offer as we buckle up our seat belts. She gives me a knowing smile and has no issue should a broken U-turn be necessary during our excursion. It's been eight years now since we moved to Arizona and Sandi was impressed on her most recent visit, commenting to my husband, "She doesn't need the GPS anymore." But Jess wasn't fooled and set her straight: "Do you know how many times we arrive somewhere and Ginny asks, 'How'd we get here?"
I've got to admit he's not exaggerating on this one. Put me in the passenger seat and my mind has permission to wander, so I'm bound to ask that question at some point during our trip. It's my attempt to remember the way for next time or at least to piece together a few more streets and update the geographic mapping technology in my brain.
Piecing It Together
Being somewhat analytical and the project planner type, when in drive I like to know the steps to get from here to there. I'll also glance in the rearview mirror at past events to understand cause and effect. However, I recall a conversation from a few years ago during which I shared a success with a friend. She asked me what had led me to this new place and point of view. For once I wasn't full of words or revelations and this led us both to conclude: You don't always have to know exactly how you got to where you are.

Sometimes we ask, "How'd I get here?" and there is immediate learning and wisdom to be garnered. Sometimes it's not ours to analyze. We can't always see each of the connective steps.
Wherever Here Is
At any given point in time it's possible that "here" is where you hoped to be, where you'd prefer never to return, or somewhere between. Rejoicing might be in order, or perhaps simply acceptance, and most likely, a combination of both.
As the year draws to a close, you might ask the same question: How did I get here? Wherever here is for you, be here for now. Recall what you can if there's something useful. Acknowledge the milestones. Make note of the places you'd rather not revisit.

Next year, you'll put the keys in the ignition for another ride. Where would you like to go?
Warmest Wishes to you over the holidays and into the New Year!
See you in the current,