Something You're Not
Wrong Answer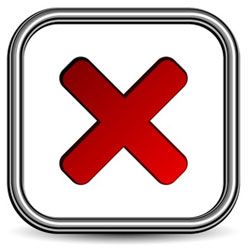 I'm not sure how this was possible but upon graduating from college, I embarked on a job hunt without ever having practiced a mock interview with the university's career department. While my business major pals were scripted and ready, this liberal arts gal was a bit less prepared. When the interviewer posed a detailed situational question that sought to determine how I would handle a problem employee, these are the words that came out of my mouth: I'd fire him! Perhaps some of you are thinking that my response was right on but that wasn't judged to be case.

Seeing as how I'm an executive coach now, it's ironic that the answer they were looking for was "coach him." Or at least coach him before you put him on probation and then fire him. I wasn't yet savvy about such organizational protocols.

Though I was not selected for that management development program, I was offered another job with the same company, Aetna, where I would make my career for the next 15 years. Much later and in the role of manager, my team would laugh at the "fire him" story. Yeah, Ginny, that's so you, a real toughie.
Your Natural Style
As the neophyte on that job interview, I guessed at the right answer and assumed a style that was not my own. Of course "style" takes time to develop, as does an understanding of business practices and the acquisition of technical skills and industry knowledge.

Even as careers mature, it's possible for seasoned professionals to fall into management styles and ways of communicating that feel somewhat artificial at times. This becomes ingrained in certain environments or roles that may not be a best fit for you.

It's important to realize that most of what you bring to an organization has long been in existence at your core.

While you're busy working on those "development opportunities" (the euphemism for perceived weaknesses), remember that the ultimate development opportunity has to do with developing something you already possess: an interest or passion, a talent or knack, a keen ability or way of thinking, a strongly held value, a way of seeing the world, and sometimes even a personality quirk. These things are certainly developed, refined, and finessed over time, however there is much that is simply part of your true nature.
A First-Rate Version of Yourself
For most people, skill acquisition is ongoing. And it's important to be aware of the flipside of any strength: the potential liabilities we each have. For example: the direct communicator who could learn to listen to other viewpoints more patiently or the idea person who would benefit from focusing.

So yes, adopt a few strategies to temper your blind spots however most importantly, work with what you've got. Rather than aspire to be something you're not, fully value who you are and apply your natural strengths for the maximum benefit.
This Week's Call To Action:
Notice when an approach you are taking feels artificial. How could operating from the strengths of your natural style benefit the situation?
"Always be a first-rate version of yourself,
instead of a second-rate version of somebody else."
-Judy Garland
See you in the current,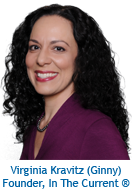 Current of Life, by Virginia Kravitz, is a free, biweekly ezine for accomplished professionals who want to have more fulfilling careers and lives. Each issue provides practical guidance and inspiration to embrace a new and joyful momentum as you navigate the important decisions of your life. As a subscriber, you have exclusive access to special events such as teleclasses, call-in days, program previews, and Current Conversations, a monthly community call.
Learn more about my unique approach which incorporates the Five Stages of Living in the Current.
Visit: inthecurrent.com
© 2014, Virginia M. Kravitz and In the Current®. All Rights Reserved.
You are welcome to reproduce this article provided it is without any alteration,
includes the copyright line above, and a link to www.inthecurrent.com, if distributing electronically.