Just Want To Be Here
Advice that Stuck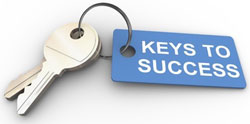 Did you catch any of Jay Leno's finale week on The Tonight Show? I'm typically fast asleep by late-night television time, but in a sentimental move, I set my DVR to record Jay's last few shows. His celebrity lineup included Matthew McConaughey who returned for a 16th appearance. McConaughey recalled the advice Jay had given him years earlier to calm his nerves before walking on stage. It was this: Just want to be here. According to McConaughey, it was advice that stuck and applied to many life situations, not just performing.¹
It's the Deeper Motivation
There are two things I like about "just want to be here." First, there's the mindfulness part: be here, in the present moment. Then there's the word: want. When you obviously want to be somewhere (think palm tree, sunny beach, vacation), you're not worrying about how you're doing it -- you just do it.
Now imagine the younger Matthew McConaughey on the night of his first Tonight Show appearance. Jay's advice might have changed his self-talk from: What if I say something stupid? to: Hey, I'm about to go on the Tonight Show. That's pretty cool.
So how does this apply to our non-celebrity lives? And what about those times when it's not as obvious as my sunny beach example that you want to be there?
Recently one of my goddaughters was getting ready for an intense day of interviews for a highly competitive Ph.D. program. After developing talking points for the specific questions she anticipated, we wrapped up her preparation by acknowledging what a terrific opportunity this is and how much she has to contribute to the program. This helped her focus on the bottom line: what she wants the interviewers to know about who she is.
Deciding to "want to be here" connects you with the big picture and your deeper motivation. It's a reminder that you can choose your attitude and set the intention to: be yourself, remain curious, and do your best.
Try It Out
As McConaughey noted, you can apply this advice to many situations in life, not just when you're on stage.
This Week's Call To Action:
The next time you feel nervous about performing well, switch to the "just want to be here" mindset. For instance: when you're speaking in front of others, making a presentation, or interviewing for a job.


Take this mindset to ordinary everyday events, especially when you're distracted or preoccupied with what you've got to do next. For instance: while sitting in a staff meeting, working out at the gym, or having dinner with your family.
I've never liked those bumper stickers that say: I'd rather be... skiing... rock climbing... or walking my dog. Why make it a habit to prefer being somewhere other than where you are?
Thanks for the tip, Jay.
See you in the current,


Notes:
¹Here's a one-minute clip of Matthew McConaughey relaying the story.
²Related Articles: What Do You Get To Do Today? ; Know Your Why