Take Your Life Off Hold
Ready to Make Some Changes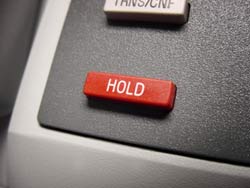 When Marcella called me, she introduced herself as a long-time ezine subscriber and stated, "I'm ready to make some changes." Having gained perspective on a long-term and unhealthy relationship that ended two years ago, Marcella summarized what she learned: "You can't put your life on hold because someone else isn't ready to do something." Recognizing that she has "experienced a shift," Marcella now wants more for herself.
Jessica, a client who was recently widowed, is contemplating the next chapter of her life. Although she is just beginning this process, certain things are clear, including that she no longer wants to put things off. "It's time to say yes." This one decision to accept invitations that interest her is already having an impact. In addition to taking a trip to Germany with her family, Jessica recently traveled to Las Vegas to see her grandson compete in a national Taekwondo competition. This is something she and her husband had hoped to do but couldn't when he became ill.
What Keeps You On Hold?
As Jessica experienced with her husband's illness, there are situations in life that necessitate delaying your plans. Yet even before this occurred, she acknowledged they often had a "when we retire" mentality. Here's what she says today: "Don't take people or time for granted, and do what you want to do now."
You might think you need big chunks of time to explore an interest, yet smaller adventures can open just as many doors. Jessica now has a Say Yes journal that celebrates her willingness to try new things. Each time she sheds her former tendency to say "someday," the easier it becomes to recognize the passions and pursuits that may be part of her future.
Time To Say Yes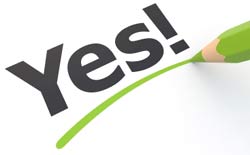 What are you ready to take off hold?
Make this your week to:
Do it now instead of someday
Start a Say Yes journal
Explore an interest
Accept an invitation
Make up your mind to be in action instead of on hold.
"You may delay but time will not."
— Benjamin Franklin
Here's to you,



© 2012, Virginia M. Kravitz and In the Current®. All Rights Reserved. You are welcome to reproduce this article provided it is without any alteration, includes the copyright above, and if distributing electronically includes a link to www.inthecurrent.com.