Don't Make Worry
It Translates Well
Mariana is one of the wonderful companions who took care of my mother the month after my father passed away. Having lived most of her life in Romania, she learned English fairly quickly "on the job" over the last few years. Her distinctive accent punctuates her personality and wraps around you warmly like one of her grandmotherly hugs. While reassuring my mother one day, she said — and you'll have to use your imagination to hear the accent — "Don't make worry."
In English we say "don't worry," yet that additional word "make" gives the exact right emphasis. To be human is to feel an array of feelings over the course of any given day. The trick is to de-program the habit of worry and to notice when we're working harder at worrying than on empowering ourselves, whether that means taking action or letting it go.
Where The Power Is
Here are three techniques you can try the next time you find yourself entangled in worry:
What's one thing that's okay? Ask yourself the question that my friend, Millie Grenough, uses whenever she needs to interrupt the worry pattern. Your answer might be any of these: This cup of tea is really hitting the spot. It's a beautiful day outside and I'm able to take a walk. One thing that's okay is that I have options.


Picture yourself on the other side of worry. Rather than ruminating on a current problem, see yourself at a distant point in time when the situation is resolved or no longer an issue. How does that give perspective to the problem at hand?


Where am I right now: in the past, present, or future? This quick pulse-check reminds you not to get stuck in the past or fixated on the future and brings you back to the present moment where the power is.
Detangle Your Hair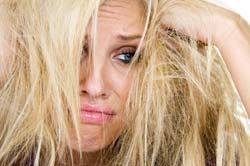 As Mariana's translation conveys, the extent of your worry is often within your control.
This week, use any or all of the techniques above to catch yourself from making worry. Reference the metaphor from one of my favorite proverbs below and remember that you have the power to detangle your hair!
"That the birds of worry and care fly over your head, this you cannot change, but that they build nests in your hair, this you can prevent."
— Chinese Proverb
Please Note: Have you missed an issue? Below are links to the two most recent ezines, including a special broadcast from February 28 that contained a tribute to my father. Though not indicated in our broadcast system, it seems there may have been a delivery problem as some of you mentioned not receiving it. Please make sure to add Ezine@inthecurrent.com to your address book, to ensure that Current of Life reaches you. You can also catch up any time at the Current of Life library.
All Is Well (February 28)
When Life Gives You a Break, Take It (March 13)
Here's to you,


For more related to today's topic, see also: Take Courage!

© 2012, Virginia M. Kravitz and In the Current®. All Rights Reserved. You are welcome to reproduce this article provided it is without any alteration, includes the copyright above, and if distributing electronically includes a link to www.inthecurrent.com.