Bucket List Twist
Put Some Zip Into Your Gifts
You're getting a new car! You're getting a new car! And you're getting a new car! While most of us aren't in the position to give as lavishly as Oprah, fortunately for us, the spirit of giving isn't limited to our bank accounts. There are numerous opportunities to give from the heart every day. Here is an idea that will put some zip into your gifts this year, along with some additional thoughts on giving.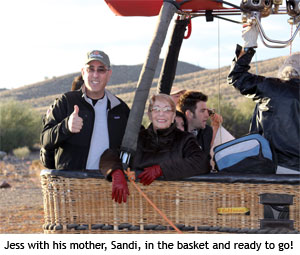 Share Your Bucket List
My mother-in-law, Sandi, says it's important to laugh every day and indeed, she has a fantastic laugh that is contagious. She also believes in living life to the fullest. During Sandi's recent visit with us, Jess decided to surprise her with a hot air balloon ride in the desert. This was an item that had been on Sandi's bucket list for a while now, and when they turned into the parking lot early that Sunday morning before sunrise, tears came to her eyes when she realized what was happening. Jess called me later and said, "We got her good!"
Known for telling everyone what's on her bucket list, Sandi is often asked what she'll do when the list is done. Her answer: "The list won't ever be done. I'm just going to keep adding more."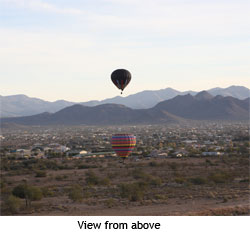 As Jess and I delighted in a surprise well executed, it occurred to me that giving someone an item on their bucket list —and sharing the experience with them— is immensely rewarding and a great twist on the whole bucket list concept. In addition to having a list of your own, it adds a whole other dimension when you help make an item on someone else's list a reality.
Who's that special someone on your gift list this year? Do you know what's on his/her bucket list? What could you give that person that would move them closer to that particular experience?
And take a lesson from Sandi by sharing what's on your list with others. You just may end up getting it sooner than you think!
More Thoughts On Giving
Here are a few quotations on giving. Enjoy the season.
"The manner of giving is worth more than the gift."
― Pierre Corneille
"For it is in giving that we receive."
― St. Francis of Assisi
"I have found that among its other benefits,
giving liberates the soul of the giver."
― Maya Angelou
Here's to you,


Notes:
See also: Just for the Pure Joy of It.

© 2010, Virginia M. Kravitz and In the Current®. All Rights Reserved. You are welcome to reproduce this article provided it is without any alteration, includes the copyright above, and if distributing electronically includes a link to www.inthecurrent.com.