Don't Postpone Joy
Opposites Attract
I'd see Elizabeth, one of my childhood friends, during the summer at our family beach club located in New Rochelle, NY, on the Long Island Sound. We were opposites. She was a competitive swimmer while my idea of swimming was hopping around the pool with one foot touching the bottom. We had tons of fun together splashing around, telling stories, and inventing games.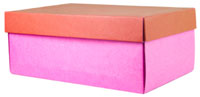 Since we typically didn't get to see each other much during the school year, I was excited one day during the spring to be invited over Elizabeth's house. I vividly remember being amazed to see Elizabeth slide out a shoebox stash of Halloween candy from under her bed. I say "amazed" because the box was still well stocked and here it was, April. I'm pretty sure mine was gone about two weeks shy of Thanksgiving. In fact I never even bothered to transfer the loot to a shoebox and ate it right out of my plastic pumpkin carrier. Maybe Elizabeth knew something about self-control or mindful eating that I didn't. On the other hand, I think some of the chocolate in her stash looked pretty stale.
Where is Your Secret Stash of Joy?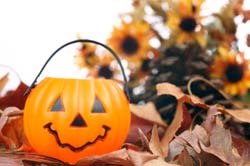 My client, Lynda, who works full time and is also the mother of three young children, told me that she has always operated with a mentality of "work now, enjoy later". Her husband on the other hand tends to switch those around and so together, they are a good balance for each other.
Self-restraint is a worthy virtue, and I am not suggesting that you suddenly become a glutton, run up your glycemic index, or indulge in every passing pleasure. Also, there are plenty of deeper joys that don't involve consuming sugar, so work with me here, I'm just using the candy story to launch these two questions:
When might you be postponing joy unnecessarily?
Where is your secret stash of joy?
Moments of joy are hidden within each day. Sometimes they can be found right alongside your work and sometimes they require that you step away.
Enjoy Now
To enjoy now, you don't have to wait until you: a) get your act together, b) finish all your work, or c) have no problems. Phew, that's a relief!
This Week: What will you do to enjoy now? I would love to hear about it so if you'd like to "report in" on this one, please do.
"Learning to live in the present moment is part of the path of joy."
— Sarah Ban Breathnach
Here's to you,



© 2010, Virginia M. Kravitz and In the Current®. All Rights Reserved. You are welcome to reproduce this article provided it is without any alteration, includes the copyright above, and if distributing electronically includes a link to www.inthecurrent.com.