Ease Into It
Eight Minutes is a Start
Paula, a seasoned executive who puts her all into her job, recently hired me to help carve out her next career move. She's sensing something new on the horizon but is pretty worn out from the constant surge of adrenaline that spikes over the course of her 13-hour-plus workdays. Even before her next career direction emerges, one top priority is abundantly clear: taking better care of her health. Paula would like to return to her yoga practice, but she is concerned about how she'll find the time and has had difficulties with being able to settle down.
We decided that an initial goal would be to just get herself into her yoga room without any expectation of how long she would spend there. This is what she reported in the first week: "I have made it into the yoga room about 5 times. First time I had to force myself to stay for 8 minutes, but I've been doing better."
Call It What You Like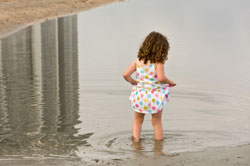 One of Oprah's trainers has a term for this gradual way of starting a new routine: leaning into it. I often refer to this as trying on an approach, experimenting with it, or easing into the water.
In addition to Paula's above, what other examples of easing into it can you think of? Here are a few:
Buying one new healthy item on each grocery trip.
Interspersing a few strength-training exercises into your regular walking routine.
Volunteering for a project at work before formally taking on a new role.
Taking a scouting trip to a geographic location where you're considering moving.
Creating momentum for an idea by starting to talk to people about it.
For any new direction you're considering or any new habit you'd like to form, there's a way to ease into it.
Ease Into Something New This Spring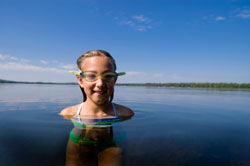 The ease-into-it approach doesn't mean that you are less committed or hesitant about where you want to go. It's simply a strategy that's less of a shock to the system. While there's a time for big moves and going full throttle, great progress can be made incrementally. In fact, some of the boldest moves seem minuscule at first yet before you know it, you're in the water!
This Week: Spring is a great time to introduce a new habit into your repertoire or to forge new paths. What is that something new for you? How will you ease into it? No action is too small to spell progress.
Here's to you,



© 2010, Virginia M. Kravitz and In the Current®. All Rights Reserved. You are welcome to reproduce this article provided it is without any alteration, includes the copyright above, and if distributing electronically includes a link to www.inthecurrent.com.