Peace and a Present (2009)
Change the Channel
December is a both a wonderful and stressful month in one. At work, there is that last push to produce before the year ends and the same is true at home, where we scurry around in holiday activity. So that you don't fall victim to a race-to-the-finish-line mentality where everything goes by in a blur, here is a simple technique you can use to have more peace and calm.

In the moment of feeling stressed or agitated, briefly stop and ask yourself: What channel am I on? Note your answer and then, when you're ready, consciously change channels.
Last Wednesday I was out running for what I hoped would be a quick errand at lunch and was anxious to get back to my office to wrap up work before heading into the Thanksgiving holiday weekend. The parking lot was a congested obstacle course and as I trekked to the grocery store from the spot I found in Timbuktu, I noticed my neck muscles were hard as rock. Knowing I was planning to write an article on this topic and wanting to practice what I preach, I asked myself: What channel am I on? Answer: The rushing-around channel. I surfed to see "what else was on" and found the feeling-the-sun-on-my-face channel. I took a deep breath of fresh air and changed my afternoon.
It sounds incredibly simple, and it is. Like my neck muscles did in the parking lot, your body gives you signals. You need only pause long enough to ask what channel you're on and then consciously choose to switch from dwelling on one aspect of your reality to another one.
This channel-changer technique is an abbreviated version of an OASIS in the Overwhelm¹ strategy called Cue-2-Do. The strategy helps you connect cues from your body to the emotions they signal. From there, you can acknowledge what's going on and select the best course of action to take.
This Month: Remember, the remote is in your hand.
Presents for You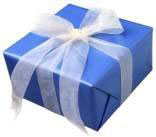 Please enjoy these two gifts as my way of saying thank you for being in the current with me. I deeply appreciate the feedback, ideas, and support that you give me all year long. I'm looking forward to bringing you even more subscriber-only bonuses in 2010.
Friday, January 8, 2010:
Free Power Coaching Session for You
Many of you tell me you look forward to the opportunity for these short and focused coaching calls. On Friday, January 8th, I have blocked out time just for you. Call during the hours listed to ask me a question, discuss a goal, or kick off the new year with some motivation.
January 8, 2010
11:30 AM — 5:30 PM Eastern
8:30 AM — 2:30 PM Pacific
480-659-9610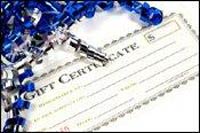 Buy One Get Two Gift Certificates
In the Current gift certificates can be delivered to your friends, family, and colleagues via e-card, personal phone call from me, or by mail on In the Current stationery. During the entire month of December, when you buy a gift certificate you get an additional one to use for yourself free. This applies at every certificate level — a great value!
Happy Holidays! I wish you all the peace and beauty of the season.
Here's to you,


Notes:
¹OASIS in the Overwhelm is a coaching program based on a book written by my friend and colleague, Millie Grenough. In the book, Millie introduces you to four simple strategies to rewire yourself towards health/happiness and away from stress/disease. The book also includes interesting references to various scientific studies on the neuroplasticity of the brain. The OASIS in the Overwhelm 28 Day Guide is a follow up book which I had the privilege of co-authoring with Millie and Jill Berquist. The guide helps you integrate the OASIS Strategies into your life in just one month. The daily workbook format includes self-assessments, examples, tips, and space to document your progress.

© 2009, Virginia M. Kravitz and In the Current®. All Rights Reserved. You are welcome to reproduce this article provided it is without any alteration, includes the copyright above, and if distributing electronically includes a link to www.inthecurrent.com.