Don't Psychoanalyze the Door
Take it from Tony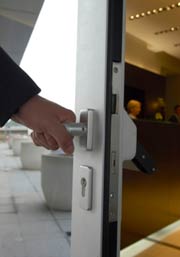 My father, Tony, now 86, was an IBM salesman during the 1950's-1980's. In the early days of his career¹ he'd cart an IBM Selectric typewriter all over Manhattan. A tip he learned from cold calling and would later share with rookie salesmen was: "Don't psychoanalyze the door." Even when approaching small or obscure companies, there might be more opportunity behind the door than expected.
This advice is relevant today whether you are cold calling to a prospective customer, presenting a proposal to senior management, asking for help from your network, or following up on an application for a job. When facing a door, you have two choices. You can imagine all the reasons it might not work out and conclude, "Why bother?" or you can focus on what is possible and knock.
Do You Follow Through?
Renee, an IT professional who is working with me to explore her next career move, hadn't heard a word in the two weeks since applying for a job on-line. She decided to track down the name of a real person she could contact to check the status of her application. Renee found the hiring manager on LinkedIn² sent him an email, and learned her application had not even been processed due to an apparent technology glitch. Good thing she sent that email, you might be thinking. But there's more. Within hours of resubmitting her application, Renee was contacted for a phone interview which went very well. She is now one of two candidates being recommended for the next round of interviews.
I was so impressed with Renee's willingness to follow up and follow through. When presented with situations where you have to "put yourself out there" it can be tempting to settle into the mentality of: "Well, if they're interested, they'll call." Often, it is the act of following up that makes the difference because it demonstrates your interest, your confidence, and your willingness to do what it takes.
What keeps you from following up? Not wanting to feel like a pest? Fear of rejection? Make the call anyway!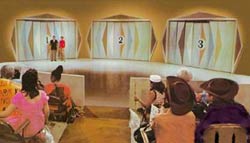 What's Behind Door #1?
A new car! Pardon my Let's Make A Deal flashback. It's true you don't know whether a clunker or a Cadillac is behind the door, but you must follow up anyway.
When you follow up and follow through you are saying:

I'm serious about exploring possibilities and going for it.
I'm willing to do what it takes to get it.
I'm confident about what I have to offer.
If I meet rejection, I'll knock on the next door.
This Week: Follow up with someone. Make the call. Extend the invitation. Follow through on a bold move.
"Don't psychoanalyze the door."
—Tony Mangano
Here's to you,


Notes:
¹Over the years, Tony went on to sell various other office products and systems, became a national account manager, and enjoyed a long and successful career with IBM.
²Are you on LinkedIn? If so, let's connect. My profile is here.

© 2009, Virginia M. Kravitz and In the Current®. All Rights Reserved. You are welcome to reproduce this article provided it is without any alteration, includes the copyright above, and if distributing electronically includes a link to www.inthecurrent.com.