What You and Pavarotti Have in Common
King of the High C's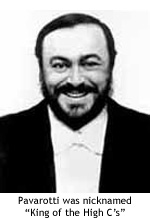 Can you imagine being so affected by a single musical performance that you would return 17 curtain calls in appreciation? That was what the audience gave Luciano Pavarotti after he masterfully delivered nine high C's in a row during a performance of Donizetti's "La Fille du Regiment" at New York's Metropolitan Opera in 1972. The high C, an octave above middle C on the piano, is one of the highest notes in the tenor range. Approaching it means stepping out to the edge, even for a master. Pavarotti described it this way:
"When singing high notes, I feel like a show jumper before a 2-meters-plus bar. Stretched to my limits. Excited and happy, but with a strong undercurrent of fear. The moment I actually hit the note, I almost lose consciousness. A physical, animal sensation seizes me. Then, after it has been successfully negotiated, I regain control."
To The Limit
Pavarotti's career was not without criticism and performances that missed the mark. Yet his extraordinary talent, charisma, and unique ability to ignite a love for music cannot be denied. What I appreciate about Pavarotti's legacy is not only that he skillfully executed his talent, but also that he shared his passion with the world. There is risk in showing so much of yourself, in revealing your passions so fully.
Perhaps not all of us want to be stretched to such limits. It would be easy to say, "Well, I don't possess such a unique talent," and leave it at that. Yet it is good to challenge ourselves and to realize that we all have the capacity to share experiences that make us feel happy and connected to life, to have the joy of those experiences spill over to others. When we do this — use our gifts, share what brings us joy, and touch others in some way — we are hitting our High C's in life.
Hitting Your High C
Whether or not you've ever felt what Pavarotti describes, you have something in common with him. You possess a gift that is uniquely yours and when expressed in its fullness, you will absolutely know it. The people around you will, too.
This Week, consider:
What activity makes you so happy that you can't imagine life without it?


What do enjoy doing so much that you love to share it with others?


What is High C for you? What passion would you like to bring to center stage in your life? Not sure how? Then call me and we'll explore it.
Listen to Luciano (music clips below) and connect with your passion!
"Am I afraid of high notes? Of course I am afraid. What sane man is not?"
—Luciano Pavarotti
Here's to you,


Music Clips

Singing his signature aria, Nessun Dorma
Maestro in the Making
As a young person, Pavarotti's initial aspiration was to be a soccer star. Taking advice from his mother, he became an elementary school teacher. He also worked selling insurance before pursuing music. After six years of voice study, he became discouraged and gave up singing, but then made a breakthrough. He stated in his autobiography: "Everything I had learned came together with my natural voice to make the sound I had been struggling so hard to achieve."¹
More Quotes from Pavarotti:
"The music itself could never take the place of my own passion in life."
"I want to reach as many people as possible with the message of music,
of wonderful opera."
"People think I m disciplined. It is not discipline. It is devotion.
There is a great difference."
"If you see me once, you cannot confuse me with another."
"You can say that I barely read the score for the orchestra. That, yes.
But the tools you buy for the tenor... piano, no? I read perfectly."
"People have a right to criticize. If they boo me because I sing bad,
they will do it."
"I want to bring people good music and make them happy.
Music, like sport, should be for everybody."
"I will bring them to their feet."
"For me, music making is the most joyful activity possible,
the most perfect expression of any emotion."
Note:
¹CBC News, World-renowned Italian tenor Luciano Pavarotti dies at 71,
http://www.cbc.ca/arts/music/story/2007/09/06/pavarotti-obit.html (June, 2009)

© 2009, Virginia M. Kravitz and In the Current®. All Rights Reserved. You are welcome to reproduce this article provided it is without any alteration, includes the copyright above, and if distributing electronically includes a link to www.inthecurrent.com.