Clear a Space-Make a Space
(Part 1)
Urge to Purge
Spring must be in full force because over the last few weeks several people have told me how happy they are to finally be sorting through "stuff" and clearing up areas of their offices and homes. I've been on the same kick also. If you have the urge to purge, act while the inspiration strikes.
Clear a Space-Make a Space
Getting rid of the old means you are readying yourself for something new. Clearing a space of something that depletes you is making a space for something that enlivens you. Keeping this in mind elevates an otherwise mundane chore to something more important and more gratifying.
When you clear a space, you are saying:
I no longer need to cling.
I trust that I have the resources to obtain what I need when I need it.
I choose focus over distraction.
I create my environment with care.
Ideas for Clearing a Space
Go for what bugs you the most. Start with an area that you encounter every day and that irritates you, such as the kitchen drawer that gets stuck, the towering stack of paper that infringes on your desk, or the pile you trip over on your way from the garage to the door.


Go random. Make it a habit to throw out 5 things when you pass by a certain area. Organizational experts agree this random approach to uncluttering can work wonders.


Go for 30-60-90. For larger projects, work on the area in 30, 60, or 90-minute intervals. If you really want to amaze yourself and have a laugh at the same time, see how much you can throw out in 30, 60, or 90 seconds. My sister, Lori, was able to delete or file 283 emails (a huge clutter magnet for many people) within 10 minutes while I timed her on the phone.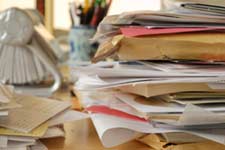 What can you clear out in two weeks?
I'll be back to you two weeks from today with more on this subject. What space would you like to clear between now and then? Use the three techniques above to see how much you can sort out, throw out, and organize in just two weeks. Until next time, enjoy lightening up!
Here's to you,


Notes:
For more on today's topic, see also: Prune Away.

© 2009, Virginia M. Kravitz and In the Current®. All Rights Reserved. You are welcome to reproduce this article provided it is without any alteration, includes the copyright above, and if distributing electronically includes a link to www.inthecurrent.com.