Peace and a Present (2008)
What Grounds You?
As we approach the peak of the holiday season, I am reminded of the importance of creating the space to feel peaceful. One way to have peace is to do something that is grounding every day. To ground yourself is to:
Feel your connection to the earth
Receive from those sources that support you
Be aware of the energy flowing to you, as well as that which you give
Do things that nourish your body, mind, and spirit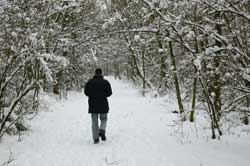 Grounding yourself calls for different things at different times, depending on your needs and how you are feeling. Sometimes a bit of solitude and stillness is precisely what will ground you. Other times, you may need to get outside, be in nature, move your body, or connect with others to feel grounded.
Two holiday symbols provide images of grounding. The Christmas trees decorated in our homes remind us of the beautiful forest trees that sustain the wind and snow of winter because they are deeply rooted to the earth. The Star of David points up to the heavens as well as down to the earth, reminding us to make that profound connection.
When do you feel grounded, supported, and peaceful? What replenishes your spirit? Grant yourself as much of that as possible throughout these holiday weeks.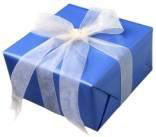 A Present For You
And now for my favorite part of this annual holiday issue! Each January, I host a special event just for subscribers to help you start the New Year off right. It is a pleasure to continue this tradition for the 4th year and here's how we'll do it this time:
Friday, January 9, 2009, for Current of Life Subscribers Only
In the Current™ Office Hours — On Friday, January 9th, I am reserving the entire day for short coaching calls with Current of Life subscribers. All you need to do is ring me up and we'll have a 10-15 minute coaching call. Use the time to ask me a question, discuss a goal, or kick off the new year with some motivation. This will be a first-come, first-served basis so if you reach my voice mail, just leave me a message (or send me an email) and I'll call you back. I will take as many calls as I can (give or take a few breaks for food and water!) between the hours of: 11:00 AM – 7:00 PM Eastern / 8:00 AM – 4:00 PM Pacific. You can reach me at: 480-659-9610. I'm looking forward to speaking with you!
If you enjoy reading Current of Life, now is a great time to invite your friends to subscribe, so they can benefit from the special programs I hold expressly for Current of Life subscribers.
In 2008, I hosted teleclasses, Open House events, and special program previews for you, plus more than four different occasions to experience private coaching on either a complimentary or reduced-fee basis. Those who participated told me they benefitted greatly, so if you haven't taken advantage of these subscriber-only opportunities yet, I invite you to do so next year.
Thank you for the enthusiastic support you give me all year long. I wish you a warm and joyful holiday season.
Here's to you,



© 2008, Virginia M. Kravitz and In the Current®. All Rights Reserved. You are welcome to reproduce this article provided it is without any alteration, includes the copyright above, and if distributing electronically includes a link to www.inthecurrent.com.