Accountability as a Success Tool
by guest contributor, Rachelle Taylor
This week, we have the pleasure of hearing from
my friend and coach colleague, Rachelle Taylor.
When you hear the word "accountability"
When you hear the word "accountability" what comes up for you? Say it out loud a couple of times and take notice. Does the term create a feeling of heaviness, or does it inspire thoughts of determination and increased success?
Today I'd like to invite you to see "accountability" as a tool to increase your success. If you have a goal you'd like to reach, creating accountability is one sure way to achieve it. As a coach, I have my own "accountability partner." We meet every Monday morning for 20 minutes to state our goals and specific actions for the week. Then we send each other a brief email to share successes and setbacks, while providing encouragement along the way. It has been a dynamic and enjoyable partnership in reaching new goals.
4 Steps to Create Your Own "Accountability Partnership"
Choose someone who will challenge and support you in reaching your goals. Be sure this person is someone you are comfortable getting to know at a pretty deep level. You are sharing your goals and dreams with them, and they with you.


Schedule a brief weekly meeting by phone or by email, and use the time specifically for stating your goals and actions. (Refrain from using this time for a social discussion. Feel free to set another time for that.)


Each week take 10 minutes (or less) to state a big goal you are working on, and specific action you will take during that week to move towards your goal. Let the other person challenge you to stretch your actions if you like. You can accept or decline the stretch!


At the next call, review successes and setbacks, and state your actions for the following week. Keep up the great work!


Questions to Move You Forward
I could use an accountability partner with this goal:
_________________________________________________________________
The person I will ask to be my accountability partner:
_________________________________________________________________
Hint: If you are unsure about using the accountability partnership as a success tool, make it a one-month-experiment and then evaluate if you would like to continue with your accountability partner.

Special thanks to my accountability partner, Rachelle Taylor, for contributing this article.
Rachelle Taylor is a credentialed Professional Coach working with Business Owners and Financial Advisors to increase bottom line results. She can be reached for Executive Coaching and Leadership Team Development at 623.910.2128 or at www.rachelletaylor.com.
Here's to you,


Notes: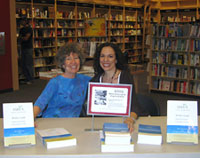 Millie Grenough and I enjoyed meeting everyone who attended our book signing at Borders Books in Scottsdale last week.
Learn more about Millie's upcoming Training the Trainers program to become an OASIS Trainer here.

© 2008, Virginia M. Kravitz and In the Current®. All Rights Reserved. You are welcome to reproduce this article provided it is without any alteration, includes the copyright above, and if distributing electronically includes a link to www.inthecurrent.com.