Don't Rest On Your Laurels -- Ride Them!
Horn Tooting As A Necessity
Fresh out of college and starting my corporate career, I was advised to keep an attagirl file – a place to collect letters of praise for a job well done that I might receive from coworkers or customers. Since this was before e-mail, these letters had a formality to them and were called Letters of Commendation. Over the years, the practice became more casual as the folders filled with more e-mails than letters.
A related skill to learn was: knowing how to use these commendations. You were to cut and paste the sentences of praise right into your performance review, artfully underscoring your contributions that year. I eventually became so good at this that people would ask me to borrow one of my blurbs for their reviews. Come to think of it, I should have charged $5.00 a blurb!
Collect Your Rave Reviews
Today, career counselors continue to advise keeping attaboy/attagirl files or "brag books". I've seen these creatively utilized during the interview process. The real value is that you get in touch with what you have to offer that's unique -- your hallmark. Plus, it helps the employer see you as an individual and not just another applicant.
We've all seen one too many Hollywood awards show acceptance speeches and no one wants to be a braggart…but don't let this stop you from asking others for feedback. Go beyond the compliment (of course you are great!) and specifically ask what you did that made a difference.
I've recently been working on a new website which will launch in September. In doing so, I've been compiling comments from my readers and clients. Last week while reviewing them, I realized that beyond making me feel good (who doesn't like to get a pat on the back?), they serve a greater purpose. Hearing from people in their own words is very motivating. It's not so much about receiving a compliment as it is about connecting to what I am here to do. It sharpens my focus on where I can have the greatest impact.
Ride Your Laurels!
Most people don't want to rest on their laurels for too long, so what do you do with the rave reviews you receive? I say ride them! Accept their truth with grace, learn from them, and let them carry you on to your future endeavors.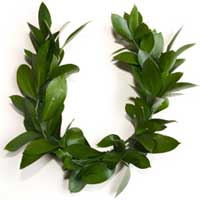 Here's to you,


P.S. While today's issue is about receiving personal accolades that are merited, there was a funny piece in last week's news about an experiment conducted by Washington, D.C. visual artist, Tom Greaves. He created a machine that delivers random compliments to passersby on the street. (See link below for details.) The story reminds me of how I loved to listen to applause at the end of "live" albums when I was a little girl and I would practice taking bows. I think it would have a tremendous impact on the work force if, at 2:00 PM every afternoon we could pause for a moment and listen to thunderous applause! Compliments, testimonials, commendations, bragging rights, rave reviews, horn toots, accolades, Nobel Peace Prizes… Bring 'em all on!
Link to story: http://www.washingtonpost.com/wp-dyn/content/article/2007/07/20/AR2007072002123.html