Download your free copy of Make This Your Defining Moment. In it I will guide you to take a powerful and essential first step toward living with greater joy and abandon. You will also receive a free subscription to my
biweekly ezine Current of Life.
Watch for a confirmation email with a link that will take you to instructions for downloading your workbook. Your address will never be shared or sold.
Why my clients hire me:
Feeling restless
At a crossroads in career/life
Unclear what's next
Overwhelmed, out of balance
Frustrated with rate of progress
Tired of settling
Want to do something different
Thirsty for something more
What they want from coaching:
Clarity, vision, and the courage to go for it
Objective and creative input
Supportive structure of accountability
Encouragement to take bolder steps
To feel less overwhelmed, more focused, and happier with decisions
To get unstuck
To take action and make progress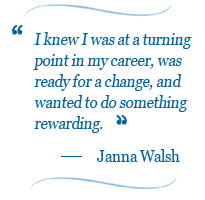 What my clients are working on:
Naming what brings purpose and meaning to their lives
Clarifying next direction
Forming an action plan and working it
Broadening their networks
Prioritizing their health and well-being
Financial health and empowerment
Doing more of what they enjoy
Letting go of what no longer serves them
Raising personal and professional standards
Strengthening skills: organization, strategic planning, decision making, communication
Creating habits of success
What they are accomplishing:
Taking ownership of their careers
Finding roles that are a better fit
Making time for the important things in life
Managing stress more effectively
More empowered mindset and attitude
Feeling good about decisions
Enhanced sense of purpose, confidence, and motivation
Applying their unique talents in a new way
Pursuing their dreams and exploring new ventures
Finding the joy in life!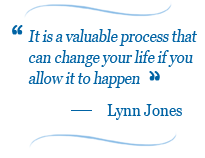 Meet My Clients
Here you can read some examples of what my clients are up to. Learn what motivated them to seek coaching, what they are working on and accomplishing, and what they are saying.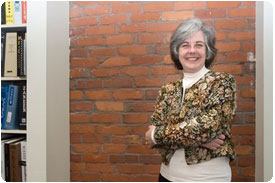 "
I came to life coaching to see if I could make sense of what I was doing professionally
. I had started my career as an interior designer, working for architectural firms. During the course of moving from job to job, which is fairly common in this field, I found myself working for a major corporation. While there, my job responsibilities were shifted several times and I found myself trying to redefine my skills and career goals to meet requirements of the jobs the corporation was putting me in - as a financial analyst. At one point I thought this was a reasonable transition. I had transferable project management skills, but lacked some financial analysis skills. I seemed to achieve moderate success, but not stellar performance. I was frustrated, unhappy and unable to find a role that was fulfilling.
"Over the course of working with Ginny, I came to realize that I really didn't belong in the roles that were being assigned and I needed to work at getting back to my interior design roots. This meant packaging the skills I had learned in the different roles I held. I was able to identify a number of valuable skills that could be applied to the role of Interior Designer and
am now in an environment I enjoy where I am encouraged to explore my own path with design work and contribute in ways that interest me.
"
- Pat Hine
Associate and Senior Interior Designer
Tecton Architects
Wethersfield, CT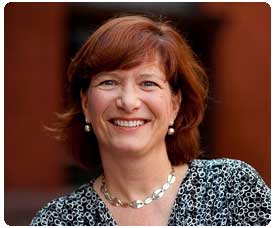 "I thoroughly enjoyed the
Now What®
program with Ginny! Committing to the program meant that I carved out time to focus on myself, and the process allowed me to clarify my thinking and channel my energy in an exciting new direction. I continue to use the learnings as well as the process in both my business and my personal life."
- Wendy Kershner
Principal,
Axia Marketing
West Reading, PA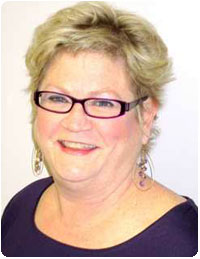 "After over two decades in healthcare market research that culminated in an executive role, Janna took some time to consider her future direction. "I knew I was at a turning point in my career, was ready for a change, and wanted to do something rewarding."
When asked to name the most significant things she gained from coaching, Janna says, "That I'm not too old to change my life significantly. And that I can make my future choices out of a calm and informed place, not out of panic or knee-jerk reactions to current frustrations. I now feel solidly grounded, optimistic, and calm."
Janna is currently working part time in the marketing research field as she undergoes intensive training to become a yoga therapist. She also teaches yoga privately and publishes a blog called onefatyogi.
- Janna Walsh
Richboro, PA
Founder, OneFatYogi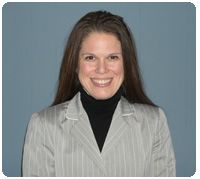 "I have interacted with Ginny both as a client and business advisor. Her own experience making a career change from the corporate world to founding In the Current® has well-equipped her to assist others who are seeking more satisfaction from life. Ginny brings a unique combination of structure, flexibility and creativity to her coaching approach. She has an in-depth understanding of how a desire for change in one aspect of an individual's life has significant ripple effects across the board. She continuously impresses me with her knowledge of coaching methodologies and resources.
Ginny has a gift for guiding a client with her enthusiasm, kindness and genuine concern. She helps each client see the patterns of their lives, keep the ones that work and redirect those that have become limiting - all resulting in a more fulfilling, purposeful, successful and dream-honoring way of life."
Listen to this 2:26 minute clip from a 2010 interview with Rina in which she describes the difference it's made to have her purpose clearly identified:
Defining Your Purpose
- Rinamarie Spatafore
Assistant Director, Marketing Communications
Montefiore Medical Center
Bronx, NY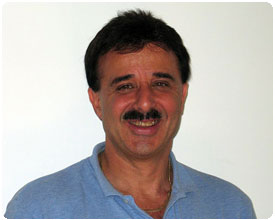 "Ginny is at a high level every time, she has a terrific positive energy. Working with her has given me a connection to a bigger tool box. She customizes her coaching and it's not just a pre-designed box. Ginny helps me organize my chaos, clear out clutter, and reframe it. She's given me a whole new model to work from.
Even the little changes over time become big changes.
She's more than a coach - Ginny is my partner in business; she's a sounding board and my consultant."
- Rich Romash
Business Owner, Real Estate Investor and Entrepreneur
Carmel, NY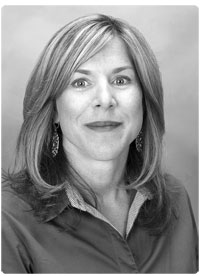 "What Ginny brought that made a difference for me was her ability to connect the dots and allow me to do some self-discovery. I was able to consider some possibilities for my future that I would not have seen prior to our work together. I appreciated her ability to meet me where I was every step of the way. Also, Ginny's professionalism throughout our coaching time was invaluable."
-
Lori Baron
Manager of Learning
Aetna
Hartford, CT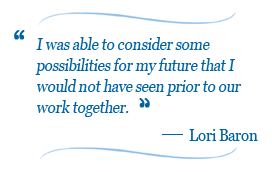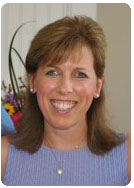 "I appreciated the honest dialogue and direct approach. I liked the fact that Ginny is flexible and has a gift for tuning into my particular needs during each session. Her ability to articulate back to me the themes and messages I was relaying helped me hear them objectively and constructively so that I was better able to understand the challenges at hand and move forward towards resolution."
-
Cheryl Lee (Bozek) Gilbert
Wealth Management Division
Cambridge Trust Company of New Hampshire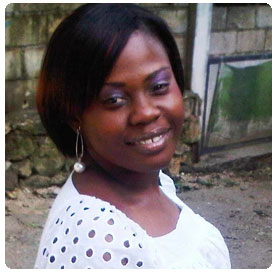 "There was a time when I was very confused about myself and I had doubts about how to achieve my dreams in a country where 98% of the population can barely eat. Therefore, I had to look for solutions. I had heard about coaching and started right away to look for a coach.
"I've been in a coaching relationship with Virginia for almost a year now, and what I get from our sessions is awesome. It's the support system that I currently don't have in my immediate environment. With all the insights I have gotten, I have a better understanding of the Real Me. So far,
coaching has made me realize that we all have the answers inside;
we just don't always know how to tap into it. Coaching empowers me because even though I have the support,
I still have to do the Job myself and that's the Beauty of it.
"
- Vanessa Mentor
Port-au-Prince, Haiti
Read more about Vanessa's story:
Signs of Hope

"I have found that the benefits of coaching have stayed with me over the years. It is a valuable process that can change your life if you allow it to happen. I made the decision that I was worth it and it was a good investment. Thank you, Ginny."
- Lynn Jones
Interior Designer
Troy, Michigan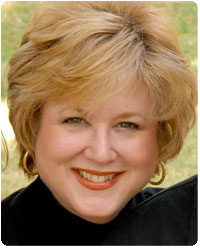 "I worked with Ginny in a coaching capacity for 6 months with other Directors.
I really enjoyed Ginny's positivity, how she gets to the heart of a problem, and how she 'made me' find the solution.
Ginny also spoke at a consultant event and she was fun, educational, and was able to spot break-through opportunities for participants right away by helping them articulate an issue and devise action steps for addressing it. She is always so upbeat and makes it obvious that she really wants to help you be the best you!"
-
Kris Andresen
Independent Sales Director
Mary Kay Cosmetics
Phoenix, AZ
"Working with Ginny helped me so much, not only with my stated goals, but also with life's unexpected curveballs that came my way during our time together. I appreciate most that at the end of every session I feel inspired, uplifted, lighter, and more empowered, and I take with me at least several strategies and new perspectives I can apply immediately to the goals and challenges at hand."
- Elizabeth Lane
Rye, NH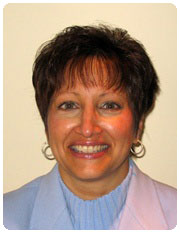 "My coaching experience with Ginny
helped awaken the courage which was always inside me
. It's Ginny's passionate, gentle but persistent and professional way of helping you discover your own hidden talents through introspective analysis and guided coaching. It's been truly an amazing experience!"
-
Jackie Haywood
Program and Property Manager
Barkan Management Co., Inc
Hartford, CT
Read Jackie's story,
Life After Layoff
:
article
;
interview
"
Working with Ginny helped me view my skills, experiences, and talents in a whole new light.
She enabled me to focus on myself in a holistic manner, looking at where I had been, where I was interested in going, and what steps could be taken in a realistic way to achieve tangible results. Ginny is very positive, perceptive, and inspirational to work with. I recommend her to anyone who is searching for direction, whether personal or professional. She helped me to see that the two are so very interconnected."
-
Michelle Turner
Senior IT Portfolio Manager
McLean, VA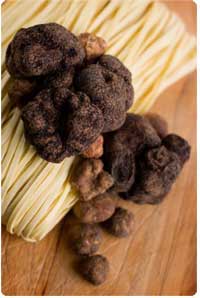 When Lydia
(name changed for privacy),
first inquired about
private coaching
, she already had an idea of what she wanted to do: own a truffle farm. She was passionate about food and had a particular interest in artisanal food production. While growing these culinary delicacies was a dream, Lydia wanted to be sure before making such a significant leap from her corporate career. As a senior consultant for a major human resources firm, she had experienced great success, yet something was lacking in terms of her own fulfillment.
Over the course of coaching, Lydia came to identify her purpose as:
I expose people to new things
. When asked what difference it made to have her purpose expressed in words she said, "It reminds me to be true to myself."
Anticipating the future she is moving toward, Lydia says: "While I realize this can be contradictory, I have a feeling of calm, comfort, and excitement."
Read Lydia's story here:
Knowing Your Purpose
When have you felt both Calm and Excited?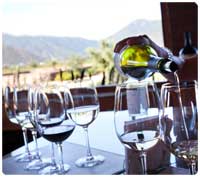 Update on Lydia (May, 2012):
Lydia recently resigned from her consulting career so that she can pursue her plans full time. Her initial concept of producing truffle mushrooms has since evolved and Lydia's current vision is
to take part in a growing industry in her area of the country by establishing her own vineyard and opening a winery
. Lydia has purchased the land where the winery will be located and is enthusiastic about documenting her journey from seed to first harvest, anticipated for 2015. Cheers to her!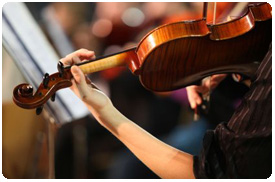 In 2006, Mindy participated in a
Now What?® Group Coaching Program
to explore possible new paths to take her career. Interestingly, what emerged as a powerful theme was her love of music and her desire to pick up the violin again. This clue informed her as she sought to articulate her purpose ? who she is at her core. Mindy expresses this as:
to bring lightness of spirit to other people
. She began to give her niece violin lessons and eventually joined a community orchestra.
Today Mindy attends weekly rehearsals and performs at concerts once a month. Mindy has had the honor of playing second chair First Violin; in order to hold her place she must practice consistently and compete with her fellow players on quality. Playing the violin is an activity Mindy enjoys alongside her full time job with an IT Management Software and Solutions Company.
What Mindy Says Today:
"Each week at concerts, I'm aware that by stepping out of my work reality into this other aspect of my life, I am completely taken over by it. When I am through, I notice a change in my sense of self. It challenges me in a way I am not utilizing for work, and I am giving something that seems very tangible to people who get a new experience at every concert we play. It is a bit Zen-like because when I am through, my senses are reawakened, I even breathe differently, and I am at peace ? I don't get that any place else. I almost can't drive my car correctly after rehearsals."

What Mindy said upon completion of the coaching program in 2006:
"I liked the way we were to let go of our previously conceived "can't" list and work from a place in the past when we were invited to dream more on our future? and that to do this process we had to remain open and not pigeon-hole ourselves."

"The most meaningful discovery I made? is that regardless of where I work, I create my reality by my choices."
- Mindy McGee
Austin, TX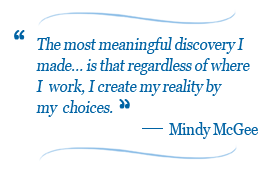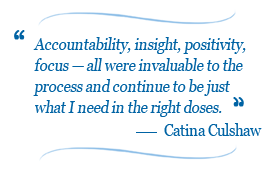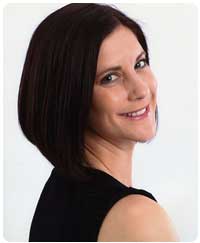 "Working with Ginny has been an incredible experience, one that I wish I hadn't waited so long to start. Her industry experience and interpersonal acumen combine to provide optimal insights into our conversations. Ginny knows exactly how to hone in on a particular - sometimes clouded - topic, and rephrase my own words so that suddenly they make sense in the bigger picture.
"
She reminds me how inter-connected all parts of life are, and how they do not need to work in opposition to each other.
She consistently challenges me to reach my fullest potential and holds me personally accountable for the commitments I make to myself. Part mentor, part antagonist, part friend; having Ginny provide gentle guidance as an accountability partner and coach is truly a rewarding experience."
-
Catina Culshaw
Business Intelligence Data Analyst
Reading, PA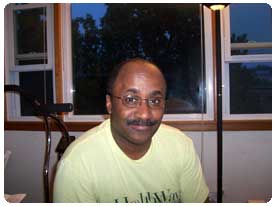 "I have had the privilege of knowing Ginny for over 20 years. Her informative, inspirational, and effective strategies as a Coach have helped me develop into a better person. Her enthusiastic personality and constant encouragement has always assisted me in meeting my goals. I quit smoking as a result of her influence. She's the best!"
-
Art Greene
Chicago, IL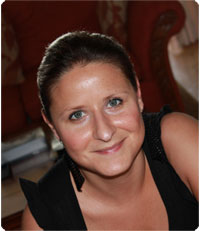 "Coming up with my purpose and knowing what I am looking for has given me a direction that will help, and has already helped, in making the right decisions for my future.
I will not be able to ignore what I now know.
"
-
Caroline Cassigneul
Bilingual Project Manager
Philadelphia, PA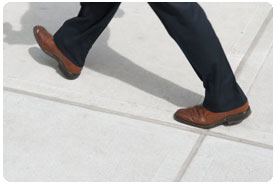 Don
(name changed for privacy)
, a technology consultant in the process of starting an international business had this to comment after a break-through coaching session:
"
I now let go of allowing the feeling of having to be safe (self-preservation) stop me from taking action and moving forward.
Instead, I will trust that "the floor will be there to meet me" when I pick up my foot to move."
- Don R.
Technology Consultant
Trieste, Italy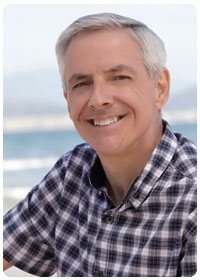 Phil enjoyed a successful career in the food services industry including roles as executive chef, culinary instructor, and as director of nutrition and dining services for various organizations. During a particular juncture and in concert with a geographic move cross country, Phil decided to entertain the idea of doing something totally new. After researching specific areas of interest, he tried on a role in the financial industry, and then ultimately chose to return to food services with a renewed perspective.
"I want to thank you again for getting me to think about work-related things I probably had never considered before.
I am not sure if I would have taken the bite, or even had the confidence or comfort level to jump in to a new field if I hadn't worked those things out.
After having the experience of working in a different field for a while, and as I continued to mull over the idea of a career change, I was able to really identify areas of strength and comfort in the food industry, where I had spent most of my professional career. I found that after all, it is where I am the most relaxed and most productive. Not a bad combination for a good week at work!"
-
Phil Levere
General Manager and Director of Dining Services
The Samarkand
Santa Barbara, CA
Update on Phil (April, 2012):
Phil reports that in addition to his full-time work, he has recently taken a "headfirst dive" into acting. Now having been cast in several community plays and having participated in two independent films, Phil is taking as many acting and improv classes as he can, and says he loves every bit of it. "It is fairly exciting stuff and has been a very happy thing for me to be part of. I totally get immersed in it while on stage.
Always wanted to try it and now I have?Nice!
"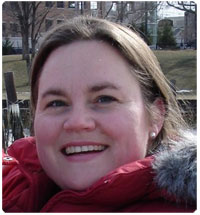 "I was looking for clarity and a new direction in my life after my youngest child started kindergarten. I hoped that I would find the right career for me that would give me a sense of purpose and satisfaction. What I liked about the coaching program was that it got me started thinking about myself in a very focused and directed way. The most meaningful discovery I made was that I have a huge treasure of skills, talents, and character traits inside of me.
"
I started out looking for a job and a career, but I soon found out that I was actually searching for something much bigger and more important ? myself, my true identity, and my own spiritual path.
I feel much stronger than ever before and now I know that there is nothing impossible for me to achieve if I want it and set my heart and mind on it.
"Ginny is an amazing coach! Her cheerful yet focused and balanced approach helped me identify my true values, my life purpose and a new direction for my life and career. Discovering underlying beliefs and changing old thinking patterns can sometimes be challenging and uncomfortable, but with Ginny by my side, I found the courage to dig really deep and work through my fears, frustrations, roadblocks, and self-imposed limitations. I highly recommend Ginny as coach and I am very grateful for her compassion, understanding as well as her ongoing support.
- Andrea Winzer
Life Coach and Spiritual Director
Aberdeen, New Jersey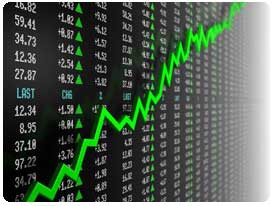 After a 22-year career with a Fortune 500 company, Rose
(name changed for privacy)
, a Senior Product Manager, became part of a downsizing. Soon after and while looking for another job, Rose was faced with a tough decision that caused her to deeply consider what it means to Know Your Worth. Read her story entitled:
Do You Know the Value of Your Own Stock?
"This whole experience strengthened my identity and showed me that I am not my work? I bring unique gifts and skills and a spirit to the world that is all my own. It has made me truly believe that I do have options, that I can craft at some level my happiness and that I have choice and I have my dreams.
When you take a risk with positive belief and faith, you are strengthened and you reflect that to yourself and the world.
"I also see the added benefit that your stretching and growth is positively mirrored and reflected to your family members and I like that - especially my eleven year old daughter. It is great to show that she can choose, be empowered, and believe in herself.
"Your coaching helped me move beyond the fear and always reminded me of the possibilities. This energized me and empowered me to take action.
This experience has provided me with the confidence and ability to consciously choose and take appropriate risk.
"
- Rose
San Francisco, CA
Update on Rose (October, 2011):
How does someone manage to obtain a promotion in a company that's going through multiple rounds of layoffs? To learn how Rose asked for more and got it, read
here
.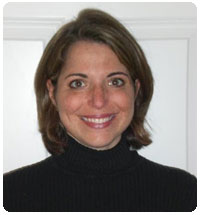 "Ginny has an upbeat approach to life and coaching that rubs off on her clients! She offers inspiring ideas, organization methods, and personal insight that guide you down a path of positive introspection. Ginny found the nuances in what I said and helped me make meaningful discoveries in my life journey. Making something workable out of a tidbit you bring to your session is a unique advantage to a coaching experience with Ginny. I highly recommend her!"
-
Lisa Chace
Marketing Manager
Boston, MA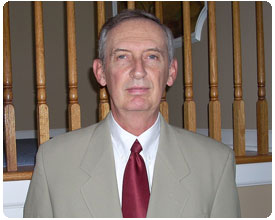 "Working with Ginny has been a highly positive and pleasurable experience. Through her coaching I have learned how to live and work more "in the moment". With her expertise and direction, I have achieved a much larger discovery of my personal and business potential, thereby leading me to greater and much more satisfying successes."
- Frank Boschi,
Business Owner
WordJockeys.com
"You listened to me and were able to offer ways to look at things that I wasn't able to do until I heard them objectively. I finally got rid of the "shoulds" in my thinking, as well as comparing myself to others, and also learned that most decisions I make do not have to be permanent and final. These lessons learned have felt like a giant weight being lifted off my shoulders and I am able to relax and enjoy the process of continuing to discover/develop my purpose and passion each day."
- Cathy Wilson
St. Johns, FL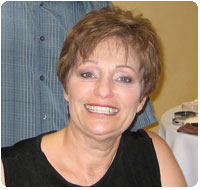 "My time with Ginny absolutely impacted me. She helped me stop, sort things out, and examine where I had gotten stuck.
I got in touch with what would make my life joyful, my business joyful, and what would make me of more benefit to other people.
I highly recommend an investment in your personal growth. Ginny is a tremendous coach and an asset to all women!"
- Sherrian Beagle
Senior Director, Independent Sales
Chandler, AZ
"Ginny adds structure when and where needed yet knows when to let things flow in an unstructured way. She is extremely positive, very enthusiastic, and genuine. Ginny offers to be available outside of the calls-I like that-she's a big part of my support network."
- Information Security Professional
Middlesex County, CT
"Ginny is the epitome of her trademark "In The Current". Greater joy and abandon are understatements to what you will experience through her coaching.
Now I know the true meaning of living in the current.
Ginny encouraged me
to allow and give myself permission to live the life of my highest dreams and divine path.
She is an inspiration and will teach you how to access your power within to navigate the river of life into greater unknowns. She is a Divine answer to your next steps."
- Alicia Waters
Spiritual Entrepreneur Developer
"The imaging we did has been very effective for me. I still envision myself on a raft floating down that river, using a big stick to move me along and my paint supplies, family, dog, whatever is important to me is on the raft. I "dock" where my goals are and of course, the tools I need are on the raft as well. Pretty cool!"
- Training Consultant & Instructional Designer
Hartford, CT
"Ginny has the ability to inspire and motivate. She helps you figure out an action plan?I really like that. With her enthusiastic guidance, I've uncovered the things that truly bring joy and meaning to my life and have a new awareness of future career possibilities available to me. I always feel uplifted after our coaching sessions; it's beneficial every time."
- Tami Newman
Owner, Errands & Organizing by Design
East Kingston, New Hampshire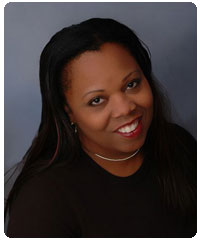 "I have had the pleasure of experiencing
Ginny's work
in a variety of capacities. All were inspirational. A few years ago, I contracted with Ginny to facilitate a workshop for corporate managers navigating through significant change. Their positions were being eliminated and they needed to consider new roles and build new skills. This was an incredibly difficult and fearful time for them, but Ginny compassionately and skillfully helped them plan for new opportunities. They were able to leave the workshop far better prepared to handle the change in front of them.
"Whether it's a corporate workshop, life vision retreat, or telephonic coaching group, Ginny's skill of connection and warm personality come through. An effective Coach with a gift for communicating with diverse styles, she is consistently professional and inspirational. Ginny is an authentic leader who does not tell you what to do, but inspires self-revelation and discovery. I am a Life Coach as a result of hearing Ginny speak at a Toastmasters convention. Her encouragement and fearless passion for doing what matters, is the reason I do what I do today."
-
Karen Senteio
Program Manager, The Hartford
President, VERVE, Life Coaching Services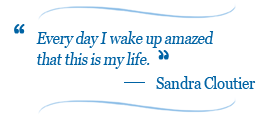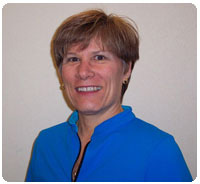 Client Interview:
Meet
Sandra Cloutier
, retired corporate executive and founder of Pathway to Wellness LLC, a business dedicated to helping others lead happy, healthful, and passionate lives.
Q. Sandy, why did you originally hire me?
A. To explore the possibility of leaving my corporate job and getting into something that would fulfill my interests while affording me the lifestyle of my dreams. I wondered if it was actually possible or if it was just a pipe dream. Essentially, I hired you to help me decide what to do with the rest of my life and to make a move in 3-5 years.
Q. What did/do you appreciate most about our coaching work together?
A. I loved the exploration process. Of course my life happened while I was working on my new life and I found the coaching valuable for the present and the future. One of the things I most appreciate is the fact that you keep reminding me to have fun with it. I tend to put my head down and just work on it. I can easily forget the fun. You help me to keep it all in perspective, have fun, and move forward with my goals.
Q. What do you consider to be your most significant accomplishment as a result of coaching?
A. Deciding on something to do that I love! And being ready to do it when a turn in my pension plan made it beneficial to quit in one and a half months. A lot of folks wanted to go, but they were not ready. I felt so fortunate to have been working with you and making such great progress toward my future. My life was moving forward and I was ahead of schedule!
Q. What is the single most important thing about what I brought to our coaching relationship that made a difference?
A. Three things come to mind: 1) giving me tasks to do that I would not have done on my own, 2) making it fun, and 3) going with me through the detours as they came up in my life while never taking our eyes off the target. Every day I wake up amazed that this is my life.
- Sandra Cloutier
Founder, Pathway to Wellness, LLC
Update on Sandy (August 2012):
Sandy's venture into the field of wellness continues to evolve and she recently completed her training to become a Registered Nurse. Having graduated May 2012, Sandy has also passed the national boards. She is looking forward to making nursing her "encore career", is planning to continue her wellness coaching, and may also do international volunteer work as well. Go Sandy!