Download your free copy of Make This Your Defining Moment. In it I will guide you to take a powerful and essential first step toward living with greater joy and abandon. You will also receive a free subscription to my
biweekly ezine Current of Life.

Watch for a confirmation email with a link that will take you to instructions for downloading your workbook. Your address will never be shared or sold.

"Your Ezines are the "whack upside the head" I need to get moving or evaluate how much progress I'm making toward my goals! Thank you for sharing them with me."
— Al DiCristofaro
President, The Retirement Store
Austin, TX
"I appreciate most that at the end of every session, I feel inspired, uplifted, lighter, and more empowered, and I take with me at least several strategies and new perspectives that I can apply immediately to the goals and challenges at hand."
— Elizabeth Lane
Rye, NH

"Thanks for all the great tips you include in your Ezine. You have an amazing ability to make a person really think."
— Heather Cascio
Willimantic, CT

"Coaching has made me realize that we all have the answers inside."
— Vanessa Mentor
Port-au-Prince, Haiti
"This whole experience strengthened my identity... It has made me truly believe that I do have options, that I can craft at some level my happiness and that I have choice and I have my dreams. When you take a risk with positive belief and faith, you are strengthened and you reflect that to yourself and the world."
— Rose J
Senior Product Manager
San Francisco, CA

"Great Ezine this week. I consider these a gift. They always cause me to pause, reflect, ponder."
— Patti MacRae
Senior Program Director
Hartford, CT


"This reminds me how interconnected all parts of life are, and how they do not need to work in opposition to each other."
— Catina Culshaw
Business Intelligence Data Analyst


"I started out looking for a job and a career, but I soon found out that I was actually searching for something much bigger and more important — myself, my true identity, and my own spiritual path."
— Andrea Winzer
Life Coach & Spiritual Director
Aberdeen, NJ
My Approach: The Five Stages of Living In The Current
People come to me saying they want a new job, more time, or to be more successful with their goals, yet when I talk to them further, the bottom line is that they want more joy and fulfillment on a daily basis. They want to spend time on what's important to them and to have their work and lives express their own uniqueness and beauty.
Simply put, it's not just what you are achieving, but how you are living and how you're feeling on a daily basis. Whatever the particular goal, what most people are ultimately looking for is a sense of meaning, joy, and to feel alive. The ironic thing is that once you get to a point where you are moving through life in a powerfully graceful way - living in the current regardless of what may be happening at the moment - you often end up achieving even greater goals than you first thought possible.
How do you move into the current? Not to worry! There is a process to clarify what you want, to identify the direction to go, and to make your life richer and more fulfilling along the way. Whichever coaching program you choose, my approach is based on guiding you through the five stages of living In the Current.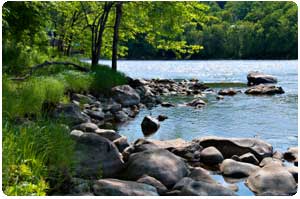 1. Embarking on the River: Your Defining Moment
Whatever you desire to introduce into your life, the defining moment is the same. The defining moment is when you make a promise to yourself to honor your heart's desire, to go for it, and not settle for less.
Watch Video: Is This Your Defining Moment?
What do you promise yourself?
Go on record and feel it in your bones that you are serious.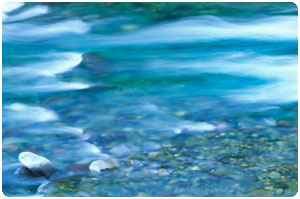 2. Reading the Current: Gaining Clarity
This discovery phase is a distinct process for sorting through and evaluating what you want in the next stage of your career and life.
This is where you get very specific
in naming your requirements for your ideal situation - including your must haves and your deal breakers -
and then look creatively at what is possible within that realm
. This process includes: granting yourself the permission and time to explore what you want; summarizing what you know about yourself and recognizing who you are on a deeper level; entertaining the field of possibilities; getting specific and choosing a direction.
By carving out a place to "hear yourself think" and generate ideas with a creative partner, you are giving yourself permission to think bigger
and imagine what is possible in your life.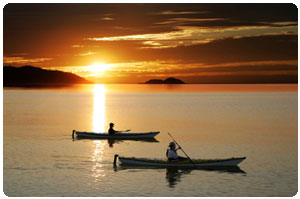 3. Riding the Current: Enjoying Now
It's important to build the muscle of accessing joy in the present, otherwise it becomes something that is completely dependent on external events or distant points in the future. Enjoying now comes from being grateful for all that is, even as you are in the process of changing and growing. Your goals and vision for the future exist not only to move you forward, but also to inspire how you live right now. This also involves making clear choices about how you use your energy and time and then being satisfied with those choices.

Life doesn't have to be perfect to live with joy. The truth is it may not even be possible to enjoy the fruit of your pursuits without first developing the habit of finding joy in what's right in front of you.
Learning to enjoy now instead of postponing joy creates richness in your life.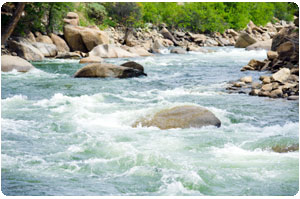 4. Navigating the Current: Moving Forward
In this stage, you are moving toward the future vision that came into focus in the Gaining Clarity stage.
When you take action, things get exciting and become real.
This is where you start to believe in yourself even more and feel the satisfaction that comes from honoring the promise you made to yourself during your Defining Moment.
Of course, as you implement change, challenges will arise. In the face of delays or rough waters, your risk tolerance will be tested and it will be tempting to doubt yourself or to chicken out on your plans.
Yet as you trust your clarity and continue to take concrete action, the next steps will reveal themselves and you will come to respect the timing of your own evolution.
Trust yourself to make the best decisions you can, to take courageous steps, and to let the rest unfold in perfect timing.
Allowing yourself to be guided by a deep sense of purpose produces a momentum
that brings both peace and excitement to your life.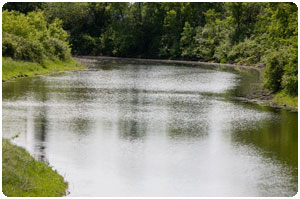 5. Living in the Current: A Powerfully Graceful Life
In any journey there is a destination you've set out to reach.
While Living in the Current is a lifelong art to master, there are milestones to celebrate along the way:
courageous steps taken, progress made, goals accomplished, insights gained, dreams fulfilled and new dreams forming. This fifth stage of Living in the Current integrates the insights from each of the previous stages. You'll also identify how to recognize when you are
outside the current
and the adjustments you can make to move back
in the current
.
What does a powerfully graceful life mean to you?