Download your free copy of Make This Your Defining Moment. In it I will guide you to take a powerful and essential first step toward living with greater joy and abandon. You will also receive a free subscription to my
biweekly ezine Current of Life.
Watch for a confirmation email with a link that will take you to instructions for downloading your workbook. Your address will never be shared or sold.

"I find your insights to be immensely powerful and practical. I really love the way you capture a useful topic and deliver the message succinctly. I highly recommend your newsletters; they are always helpful, no matter the topic!"
— Karen Chadbourne
President and Founder
Original Presents, LLC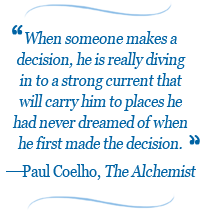 "As if being thoughtful, practical, and inspirational wasn't enough, the Ezine is a particularly valuable tool because it challenges me to get out of my comfort zone."
— Andrew Schwartz
Marketing Executive
Cromwell, CT

"Now I know the true meaning of living in the current.. to allow and give myself permission to live the life of my highest dreams and divine path."
— Alicia Waters
Spiritual Entrepreneur Developer

"Thank you for the inspiration that
In the Current
brings to my life. I am an avid reader of the Ezine and enjoy your enthusiasm to share a vision with others. Your insight into life is a gift that I must follow."
— Paul Young
Account Manager
South Glastonbury, CT
What is Your Restlessness Trying to Tell You?
You have reached that point in your life where you've achieved a certain level of accomplishment in your work and personally. Yet something is missing. Part of you feels that you should just be grateful for what you have, yet
this restless desire for more in your life
continues to ebb and flow. It's tangible enough to get your attention but not specific enough to act upon. You tell yourself you're going to do something about it but every day you're pulled in a million directions.
You may think that by now you're supposed to know the answers, but actually "not knowing" is an essential stage to go through because it opens you to new possibilities. What I've seen is that the best way to find more meaning in your life or more satisfying work is to
take on your restlessness as an opportunity to live your whole life more fully.
Your Defining Moment
Whether your restlessness shows up as a desire to change your career, have the time for certain pursuits, or to introduce something completely new into your life, the defining moment is the same.
The defining moment is when you make a promise to yourself to honor your heart's desire, to go for it, and not settle for less.
The Decision to Live In the Current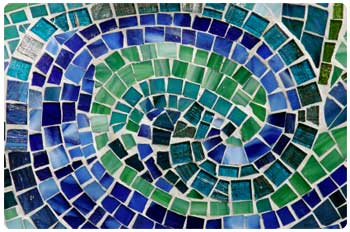 There is a way to reconnect with your passion for your work and for your life. What this will require is to listen carefully to your own inklings and to get clear on what you really want. At first the insights you collect may just seem like random puzzle pieces. Viewed in perspective, however, you will see that they are actually pieces of a precious mosaic – the picture of your life taking shape.
As this picture comes into focus and you act on it,
your satisfaction will emerge not from any one particular outcome, accomplishment, or external condition but rather from the way you are living, with power and grace
– boldly moving in the direction you want to go with the patience and willingness to adjust course when needed, and with faith that you will be supported. When you engage in your life this way,
you are living in the full current of life
.
I'll Be Your Guide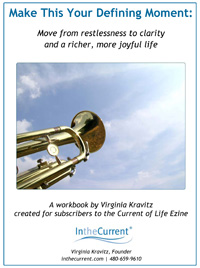 If you are feeling that restless tug
to pay attention to how your life is calling you, I encourage you to watch the slideshow above and download a free copy of my workbook:
Make This Your Defining Moment
. In it I'll guide you to
take a powerful and essential first step
toward living with greater joy and abandon. You'll also receive my free Ezine,
Current of Life
, which will inspire and motivate you with a call to action in each issue.
There is nothing like the feeling of keeping a promise to yourself and knowing deep down...
that you will not settle, that you are fully engaged with your life, and that you are moving in the right direction.
First, though, the promise must be made.
Acknowledge what you are yearning for and decide to go for it.
Make this your defining moment.
Here's to you,